I've had a busy last couple of weeks, and so have my friends! I have a couple of cool new releases to share, but first a couple other things to note.
One, I'm being interviewed today on my friend Jim Winter's blog about my latest release, Hangar 18: Legacy. Please stop by and ask me a question – or heck, just say hi – so Jim doesn't feel lonely!
Two, I've decided it's time to change my tagline here at jenpowell.com. Making the Mundane Magical just doesn't seem to fit as well as I thought it would. There's plenty of weird stuff here, but it's not really magical. More like marching to the beat of a different drummer. Only I don't march. I don't dance either, except for chair-dancing. I'm sure my coworkers think I'm weird when they see me headbanging or grooving to some awesome Front Line Assembly, but they're weird in their own ways, too. So just a little change: from here out, we'll be Chair-dancing to a Different Beat. Sometimes in 5/4 time!
And now, we have new releases for WANA Wednesday!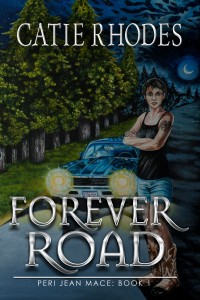 First up is Forever Road by Catie Rhodes, where seeing ghosts is rough, but owing a ghost a favor flat out sucks, as main character Peri Jean says:
"My name's Peri Jean Mace, and I've seen ghosts ever since I can remember. Don't get too excited. Seeing across the veil branded me as a loony during my growing up years, and I learned to keep my yap shut about it.
Now I'm not sure I can anymore.
See, my cousin up and got herself killed the very same day I promised her a favor.  Now she's back in spirit form and determined to make me pay. If I don't solve her murder, she's going to haunt me forever. Talk about the debt collector from hell.
That's not my only problem. An obnoxiously hot cop wants to arrest my best friend for the murder.  My bigmouthed archenemy holds a clue to the killer's identity. And there's this mean—and ugly—woman who wants to beat me up.
None of this can turn out good."
For more info and buy links, see Catie's website.
---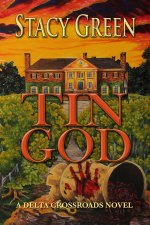 Also new this week is Tin Gods by Stacy Green. Tin Gods is the story of Jaymee Ballard, who, trapped by poverty and without many allies,  is determined to reunite with the daughter she believes was stolen from her. But when the one person willing to help Jaymee ends up murdered in one of the historic mansions in Roselea, Mississippi, she realizes the secret of her past has come back to haunt her.
Now any hope Jaymee has of making things right rests in a man she barely knows and is afraid to trust, a man with his own demons to fight. Up against years of deception, they rush to identify the killer before the evidence–and Jaymee's daughter–are lost.
For more info and buy links, see Stacy's website.
---
The giveaway has ended. Thanks for your interest!
And now a
quick ROW80 update:
The website design was given a go, so I'm scrambling to get a home page and contact page up for them ASAP. I've also managed to get 600 words in on my short story, so that's going well, and got some time in on the treadmill, too. Although yesterday,we had some fantastic weather, so I took the Harley out for a cruise instead. All in all, the week's off to a good start!
Have you stopped by Jim Winter's blog? What do you think of "Chair-dancing to a Different Beat?" Have you picked up Forever Road or Tin Gods yet? And if you're doing ROW80 (or even if you're not), how's your week going so far? I'd love to hear from you!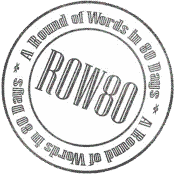 Jennette Marie Powell writes stories about ordinary people in ordinary places, who do extraordinary things and learn that those ordinary places are anything but. In her Saturn Society novels, unwilling time travelers do what they must to make things right... and change more than they expect. You can find her books at Amazon, Barnes & Noble, Smashwords, Kobo, iTunes, and more.