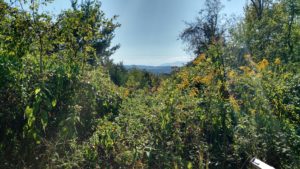 Last week, we closed on our property in Tennessee. It's now ours! Part of me still can't believe it, especially when we went there the following day and it's even more beautiful than I remembered (that photo does not even come close to doing it justice). We met with our builder the afternoon we closed. He's a friend of a friend, and we really liked him. He gave us a tour through his current WIP, a 12,000-foot monstrosity being built for a fraction-of-a-1%er who's moving there from California. Amazing! And a major testament to our builder's (and his trades peoples') work. He wants to start on our house when he's done with the current project, probably in April or May. Things are moving along!
What I've been reading: Not going to name the book today, because I don't have much good to say about it. I picked it up because it's based on a computer game I recently got sucked into, and it was free. The only reason I finished it was because it was short (a novella), and there were just enough references from the game to keep it mildly interesting. Otherwise, the poorly-developed characters and lack of depth would have had me putting the book down a couple chapters in. There was also an amateurish feel to the writing. I don't expect a literary masterpiece–I read mostly genre fiction, and simple, workmanship writing is normally fine with me, but this was lacking something more that I can't quite put my finger on. Most of the reviews mentioned things like this, so it wasn't just me. On to better things!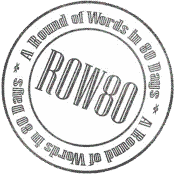 Writing/ROW80 update: As you might guess from my first paragraph, my mind has not been on the writing. Also, we've been a bit under the weather here–between our closing, meeting with the builder, and a little walking over the land in Tennessee, we spent most of our weekend there taking it easy at the hotel. Nothing major, just a bad cold/mild flu that took a while to let up. We're better now, but it's been slow going. So no, not much has happened on the writing front, other than me working through a couple more sections of The Story Toolkit. I'm not expecting much more this week, as I have to collect all our tax stuff for the accountant, whom I have an appointment with next weekend. But I'll do my best to spend a little time on The Story Toolkit each day, and see how that works.
What about you–read any stinkers lately? Or how about good books? Have you and your family managed to keep healthy? Seems like everyone I know has had that cold going around here! What else has been going on with you, and how are you doing on whatever goals you might have? Please share in the comments–I'd love to hear from you!

Jennette Marie Powell writes stories about ordinary people in ordinary places, who do extraordinary things and learn that those ordinary places are anything but. In her Saturn Society novels, unwilling time travelers do what they must to make things right... and change more than they expect. You can find her books at Amazon, Barnes & Noble, Smashwords, Kobo, iTunes, and more.