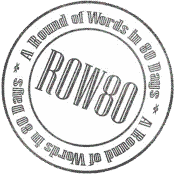 Planning ahead makes all the difference! That's what I say when people ask me if I'm stressed this holiday season. No, I don't have all my shopping done, but I feel good about where I am with it – and everything else.
I decorated two weeks ago. The main reason that's done is because I kept it simple: Christmas tree, mantel decorations, nativity scene. My family doesn't care about elaborate decorations, as long as we have the basics!
As far as keeping up with writing goes, I managed that by setting smaller goals. This is an area where I'm not always successful–I'm hopeful that means I've learned from those times I wasn't!
Here's what I accomplished this week:
Hangar 18 – write up front and back matter
Hangar 18 – create full cover for paperback

Physical activity 5x this week – partial – got it in 4x
I've already met my ROW80 goals for the overall quarter. In addition to Hangar 18: Legacy, which is now with my editor, I'd like to release Times Two, the ebook-only boxed set of my Saturn Society novels. Since they are all already written and edited, and I already have a cover design, that leaves formatting. It would be great to get this out before Christmas. The ROW is over on Thursday, and check-in day is on Wednesday, so before then, I'd like to accomplish:
Times Two – assemble boxed set and format for Smashwords
Physical activity 5x this week (2-3x by Thursday)
If you're participating in ROW80, how are you doing so far? Are you ready for the ROW to be over–and are you ready for the holidays??

Jennette Marie Powell writes stories about ordinary people in ordinary places, who do extraordinary things and learn that those ordinary places are anything but. In her Saturn Society novels, unwilling time travelers do what they must to make things right... and change more than they expect. You can find her books at Amazon, Barnes & Noble, Smashwords, Kobo, iTunes, and more.