My post is late today, because my husband and I just got back from a weekend trip to Cleveland a little while ago.
We'd planned this trip several months ago, after being invited to my longtime friend T.S. Hottle's wedding on the Lake Erie shore. We rode the Harley up–a bit hot at times, but overall a good ride. We stopped in Columbus on the way up to take our daughter out to lunch for her birthday, and got to Cleveland in plenty of time for the wedding.
Tom and his now-wife put together a lovely little beach ceremony, with a reception in the park just above it. We've known each other for 34 years (we both did the math while telling his relatives), so it was an honor to be included as part of his family for their special day.
This morning, we rode over to the other side of Cleveland to meet up with one of my husband's friends from high school, who also has a Harley. And, I also got to meet his wife for the first time, which was fun. We all rode into the picturesque small town nearby and had a wonderful brunch (can you say waffles with Nashville-hot chicken? Yes!). Then we took a cruise with them before heading home. All in all, a great weekend!
I had plenty of time to think on back of the motorcycle on the way there and home, and it occurred to me that we used to get out and do fun things like that fairly regularly while we were dating. We'd been married about a year and a half when our daughter came along, which tends to slow things down a bit–understandably. Not that we didn't ever go on vacations or even long weekend trips, but more planning was involved, and only once did we go on motorcycles. That was back when I had my Harley, and we rode to Tennessee. My Harley was a street bike, not a touring bike, so it was not a pleasant experience, and not repeated. We sold my Harley a few years ago, because I just don't have time to ride often enough.
But by the time our daughter went to college, the habit of saying no had gotten ingrained in me. It seemed between my job, writing, taking care of a house, and being tired all the time, I just didn't have much time to do things like motorcycle trips, especially spontaneous ones.
Saying No is important, especially saying no to more obligations when we already have too many. Sometimes, it's necessary to say no to fun because of our health. But saying no out of habit, is a habit I'm working on breaking.
That started earlier this spring, one day when my husband asked if I'd like to go on a motorcycle ride to visit our daughter in Columbus. I had things to do that weekend–it was while we were still working on the flip house–but I knew I'd been saying no to too much, so I said yes. We had a great visit and lunch, and I was glad I went. That's when I realized I needed to say yes to fun, and to the special people in my life, more often. The stuff to do was still there later, and it ended up getting done soon enough. That was how this weekend was, too, even though it was planned in advanced. It might be 9:30 PM, but the laundry is in the dryer, and I'm getting the blog written. I'm glad I said yes to Tom's wedding, too. I have a couple more yesses coming up next weekend, so the blog might be late then, too. We'll see!
What I've Been Reading: Starseers, by Lindsey Buroker. This is Book 3 in her Fallen Empire series. I tried Star Nomad, the first book in the series, because it was free (it still is) and it looked good. It was, and I'm now hooked. This is space opera with a kick-ass female starship captain who's ferrying some interesting passengers around the galaxy after serving in the military during a war. One passenger is a super-sexy cyborg who happened to serve on the other side during the war, making for a nice little romantic subplot. These books are fast-paced, action-packed, and feature well-developed characters and humor. If you like space opera, I highly recommend them!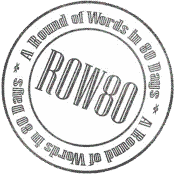 What I've Been Writing: I completed all of the Week 5 exercises in my workshop! I'd only planned to complete half of them, since I knew I would be away over the weekend, but they turned out to be easier and much less time-consuming than I expected. Or maybe I didn't quite get the concepts; that's certainly possible. But at any rate, they're done, and this week, I want to do the Week 6 lesson and exercises. These exercises look a bit more in-depth than last week's, so given that I have another busy weekend coming up, it may not all happen. But that's what I'll shoot for!
How about you–do you have trouble saying yes to fun? Or perhaps you have trouble saying no–to too many obligations? What fun things have you said yes to lately? And how are you doing on whatever goals you might have, writing or otherwise? Please share in the comments–I'd love to hear from you!

Jennette Marie Powell writes stories about ordinary people in ordinary places, who do extraordinary things and learn that those ordinary places are anything but. In her Saturn Society novels, unwilling time travelers do what they must to make things right... and change more than they expect. You can find her books at Amazon, Barnes & Noble, Smashwords, Kobo, iTunes, and more.