I seem to be leaning toward a "blog on Wednesday" rather than Sunday lately, so let's go with it. Sundays have been busy of late, so that's the main thing. This past Sunday, I worked on formatting a print book for a friend, and by the time I finished, it was pretty late and I didn't feel like blogging. The print book turned out nice, though!
That was the last of several days in a row devoted to friends–a good thing!
Mondays and Tuesdays are usually pretty quiet around here. Mondays, in particular, I spend most of the evening doing bookkeeping for my husband's small business. Tuesday is for catching up other things, and maybe some writing!
Last week's friend activities began with a special, four-legged friend in need–and no, not my dog Isis. No, this time it was another of our critters who needed attention–as in, a visit to the vet, for Sanddollar, our turtle.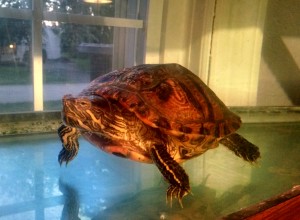 Sanddollar is a Red-eared Slider, an aquatic turtle. She came to us six years ago in the form of a request to pet-sit, for one of my daughter's friends.
The turtle was surprisingly inquisitive and interested in whatever we were doing when around her container, and DD and I quickly grew fond of her. At the time, she was maybe four inches long, and arrived in a plastic container barely large enough to turn around in. DH and I thought, "that can't be right," and did some research on the 'net. It turned out Sanddollar needed a 40 gallon aquarium! Not to mention lights and a platform on which to bask. It also turned out that DD's friend wasn't really that into the turtle anymore, so the turtle stayed. She is an enthusiastic eater, and often swims to the side of the tank when someone comes in the room, and splashes to get our attention (and hopefully, a snack).
Except that for the past couple of months, her appetite has been diminishing, to the point where she hadn't eaten anything–even her turtle pellets–for a week. She was also doing nothing but bask–which she's always loved to do, but not to the point where she even slept on her basking platform. Reptiles can go a long time between meals, so in itself this wasn't a big deal–but this wasn't like Sanddollar.
So to the vet we went, where Sanddollar got poked, prodded, x-rayed, and injected with vitamins and antibiotics. Let me tell you, that was one ticked-off turtle! But we also went home with a new bag of a different brand of turtle pellets, and when we dropped some in Sanddollar's tank a few hours later, she ate! And was also back to being her more active and curious self.
Oh, and I learned something new–how to give a turtle a shot! She needs a full course of antibiotics, so every three days, DD has to hold her and restrain her from biting (plastic cup works really well here), while I pry the turtle's front leg out and give her the shot. Definitely a bit tricky!
The next few days were more standard fun with friends. I saw my writing group on Saturday, and then had one of my best friends from high school over for dinner. Then on Sunday, one of my best friends from college came over and went to lunch with us. The rest of the day was spent formatting that print book, for a good writing friend.
And now for the FREE: To spur interest in my Saturn Society books, my publisher has made the ebook version of Time's Enemy, the first in the series, FREE on Amazon, Apple iBooks, Kobo, Smashwords, and Google Play Books. Click the Buy Now button below for links. Barnes and Noble wasn't yet free last time I checked, but will be soon. So if you've thought about trying my series (or maybe you are now? :D), now's a great time to give it a read!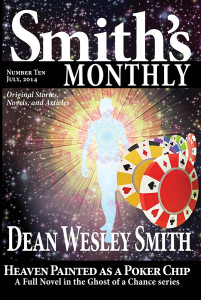 What I read this week: Smith's Monthly #10 by Dean Wesley Smith. I read the short stories and serial segments last week, and this week, read the novel, Heaven Painted as a Poker Chip. It's a story about ghosts, with a really unique treatment of the ghosts and their abilities. It also had next to nothing to do with poker (not a bad thing for me), other than it was mostly set in Las Vegas. This story is also available standalone. I'm really looking forward to reading more in the series. Highly recommended!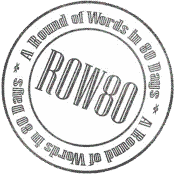 ROW80 Update: I finished the outline for the new novella, so that's a win! For this week, the plan is to go through the beta readers' notes on my upcoming WIP, and get the revisions made from at least one of them, preferably more.
What about you–what kind of pets do you have, and do you have any interesting stories to share? Learned anything new this week? Can you imagine giving a shot to a turtle? O.o  How are you doing on whatever goals you may have, whether writing or otherwise? Please share in the comments–I'd love to hear from you!

Jennette Marie Powell writes stories about ordinary people in ordinary places, who do extraordinary things and learn that those ordinary places are anything but. In her Saturn Society novels, unwilling time travelers do what they must to make things right... and change more than they expect. You can find her books at Amazon, Barnes & Noble, Smashwords, Kobo, iTunes, and more.