Today marks the start of Read an Ebook Week, an annual promotion from Smashwords wherein thousands of independent authors and publishers offer ebooks at fantastic discounts. Mythical Press is participating too, and has all my books on sale. Haven't tried the Saturn Society series yet? It's a great time to change that–Time's Enemy, Book 1, is on sale for 75% off. The anthology Love's a Beach, which includes my newest installment, a short story called "Time's Tempest" featuring new characters, is also on sale for 50% off, and has some great reads from Stacy McKitrick and four of my other writing friends. Just click the image above to go to Smashwords.
Ironically, just in time for Read an Ebook Week, my Kindle decided to die on me. It had been getting slower and occasionally would display an error message when I opened a book. If I tapped OK, the error message would disappear and it worked fine. Then searches for words I knew were in the book would turn up nothing, and a couple days ago, it started saying books were "no longer available" when I'd just purchased them from Amazon. A quick search revealed that my Kindle probably just needed a reboot, so I tried that. But my Kindle did not reboot–or rather, it tried for several minutes, than eventually just crapped out: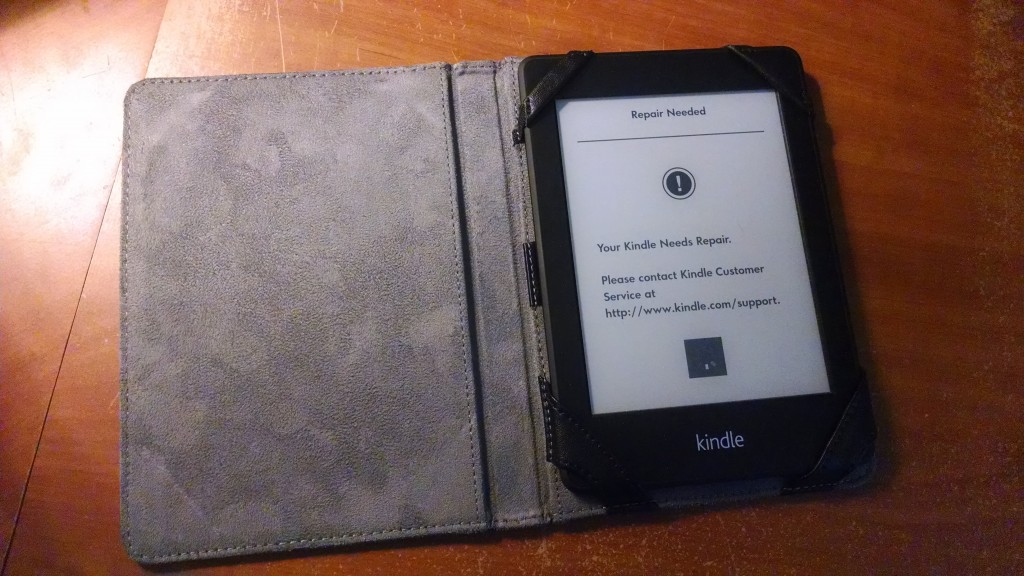 I was not optimistic about contacting Amazon, because you see, I got this Kindle for Christmas–last year.
Which means it's about two months out of warranty.
But all I found in the searches was either "Duh, contact Amazon, they'll replace it" (usually in response to someone with a relatively new Kindle) or "It's bricked" (often in response to someone who tried to root, or hack, their Kindle). Nothing about anything else that could be done if it was out of warranty, even in a case like mine where I'd not so much as dropped it.
So I got on an online chat with them. I didn't really expect them to offer to repair or replace it except for a fee, but mainly contacted them in the small chance there was something else I might try to resuscitate the Kindle. Sure enough, the customer service rep said it was out of warranty, and would I like him to go over some options for a "deeply discounted replacement or upgrade?"
Not acceptable. Why would I want to pay for another Kindle when this one failed two months after the warranty expired? I told him that and added, "I am very unhappy with this. I haven't even dropped it, it just quit working," expecting to get a "sorry, company policy" response. But the rep said, "please wait while I talk to my manager."
He came back and said they'd make an exception, and replace it for free! I guess it never hurts to let them know what you think (politely, of course) and be persistent. The new one is supposed to arrive tomorrow.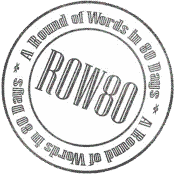 Luckily, that didn't cut into my writing time too much yesterday, and I got my 3,500 words in for the week. Wow, is this novella turning out to be longer than I expected! I thought it was going to be a longish short story at first, maybe 10,000 words, but then it kept going. I'm now over 20,000 words and only a little more than halfway through my outline. That's okay, it needs to be as long as it needs to be. I suspect I'll do some cutting on revision, too.
I didn't do so well with the fitness, though I got a couple of very short workouts in. I am almost done with the website–hope to finish that today–so I still consider it a good week.
Next week, the same: 3500 words, finish the website (this time, for sure!), and get 3 or 4 activity sessions in. I have a print book to format too, so I'll toss get started on that in as a bonus.
What about you–planning to read any ebooks this week, whether from Smashwords or elsewhere? Have any surprising customer service experiences to share, good or bad? And whether or not you're participating in ROW80, how did you do on whatever goals you might have? Please share–I'd love to hear from you!

Jennette Marie Powell writes stories about ordinary people in ordinary places, who do extraordinary things and learn that those ordinary places are anything but. In her Saturn Society novels, unwilling time travelers do what they must to make things right... and change more than they expect. You can find her books at Amazon, Barnes & Noble, Smashwords, Kobo, iTunes, and more.