My writing friends have been busy these past couple of weeks! Like most writers, my To-Be-Read pile (or list on my Kindle, rather) runneth over, yet I had to snag these.
First up, we have crime fiction from my IRL friend Jim Winter, the latest in his Nick Kepler P.I. series. This is one of the covers I designed a couple of weeks ago, and I had tons of fun with it! In Bad Religion, Nick and Elaine are shadowing the pastor of a suburban church. So far, they've found nothing on him, but one of Nick's operatives comes across something that tells them they've been on the wrong track. But a collision on a lonely rural road keeps Nick from finding out what. It also forces Nick to look more closely at the church itself. Who's really skimming the money? Is it Calvin Leach, the church leader who wants to be the next great televangelist? Is it Alex Pullman, whose real estate fortune was made paving over perfectly good neighborhoods to build upscale shopping malls? Is it one of the church board? Or is there more going on here, a religious schism that's closer to Nick's past than he imagined?
In the background is Nikolai Karpov, the Russian mobster who seemingly likes Nick enough to want to bring him into his organization. Meanwhile, Elaine is dealing with the disintegration of her marriage and what her budding partnership with Nick means, both personally and professionally.
It's not obvious from Jim's description, but there's some great humor in here, too – enough that, when I was beta reading this at work several years ago (I had nothing to do), my coworkers kept giving me weird looks because I kept trying to stifle laughter. More info and buy links on Jim's blog.
---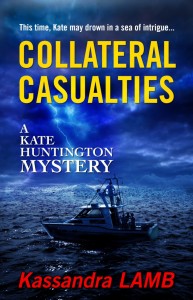 Want some more mystery and suspense? Kassandra Lamb has released Collateral Casualties, the fifth in her Kate Huntington mystery series. When a former client reaches out to psychotherapist Kate Huntington and reveals a foreign diplomat's dark secret, then dies of 'natural causes' just days later, Kate isn't sure what to think. Was the man delusional or is she now privy to dangerous information?
Soon she discovers her client was totally sane… and he was murdered. Someone is now trying to eliminate her, and anyone and everyone she might have told. Forced into hiding, she and her husband, Skip, along with the operatives of his private investigating agency, struggle to stay one step ahead of a ruthless killer. Skip and his P.I. partner are good investigators, but this time they may be in over their heads… and they could all end up drowning in a sea of international intrigue. More info and buy links on Kassandra's website.
---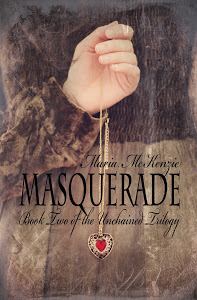 How about some history with a little romance? New out from Maria McKenzie is Masquerade, the second in her Escape Trilogy.
Celebrated actress Lavinia Hargraves performs her most challenging role offstage. Although born in 1872 to Daniel Taylor, a white man and wealthy landowner in southern California, Lavinia's mother, Lori, is a Negro and former slave. Lavinia, who appears white, is desperate to hide her Negro ancestry, as well as pursue her dream of becoming the world's greatest actress. After eloping with the much older Vernon Hargraves, owner of New York's premier theater company, Lavinia is provided with all she could ever want: a new life as white, stardom on the stage, and an abundant supply of money. Soon Lavinia's seduction by a young and handsome actor sets in motion a devastating turn of events. Dashing millionaire contractor Andrew Standish comes into Lavinia's life at a time when she needs him most. However, the secret of Lori's existence could demolish her daughter's carefully constructed facade. To what lengths will Andrew go to uncover Lavinia's past? More info and buy links on Maria's blog.
---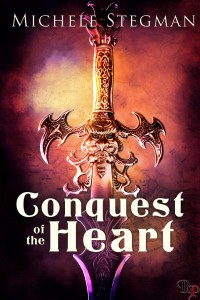 If you prefer your history with a lot of romance, Michele Stegman never disappoints (at least me!). Conquest of the Heart is "a lighthearted romp through the dark ages," in which Madeline wants a big, brash, never-defeated-in-battle, Norman knight. What she gets, by order of the king, is a wiry Saxon who once studied for the priesthood instead of warfare. But is this gentle man she has fallen in love with entangled in the rebellion now sweeping the land?Ranulf wants to marry the girl next door. What he gets, by order of the king , is a lush, strong Norman woman who just might be a spy reporting his every move. He wants her in every way a man can possibly want a woman. But can he trust his heart to a woman who might have been sent to root out the struggle for freedom his people are engaged in? More info and buy links on Michele's website.
---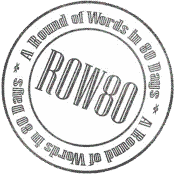 Quick ROW80 update: This is it for Round 2! Or rather, Thursday is, I believe. I've made a good dent in re-reading Holly Lisle's How to Write a Series, and the ideas for my next Saturn Society book keep coming, so I consider that a win! Next round, the words!

How about you? Think you might just have to add to your overflowing TBR list or pile? If you're doing ROW80 – or even if you're not – how did you do on your goals this spring? Please share – I'd love to hear from you!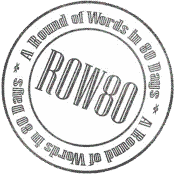 Jennette Marie Powell writes stories about ordinary people in ordinary places, who do extraordinary things and learn that those ordinary places are anything but. In her Saturn Society novels, unwilling time travelers do what they must to make things right... and change more than they expect. You can find her books at Amazon, Barnes & Noble, Smashwords, Kobo, iTunes, and more.