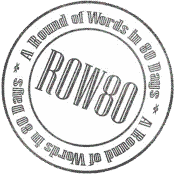 My NaNoWriMo book has come along quite a ways this week… in fact, I expect to finish it today or tomorrow.
And I don't expect to hit 50,000 words until Wednesday or Thursday.
In other words, I'm running out of story. And I'm a bit shocked – if anything, my work usually runs long, just ask anyone who's read Time's Enemy or especially Time's Fugitive. Even my short story, "Time's Holiday," clocked in at over 7,000 in its first draft, and the Home for the Holidays anthology required it to be 5,000 or under. It turned out I had some repetitious stuff, and stuff that wasn't absolutely vital to the story that I could cut, and I whittled it down to size while making it a much better book.
The NaNo novel is already lean – there's almost no description in it. That's something I usually have to layer in during revision, but it's even more scant in this book than usual. Then again, I'm just now getting to the big boss battle, and I do write long, so this may take up the words after all.
If I don't, I have a plan. I can add an author's note, and see how much that adds. If it's not enough, I can start in on a little nonfiction project I've been meaning to write for a while – an instruction manual, of sorts, for my web design clients.
Here's the details on my progress for this past week:
12,000 words on NaNoWriMo novel, to a total of 43,000 words or more – Done!

Physical activity 5x this week – partial – got 4x in – not bad for having a holiday!

Hangar 18 – review and markup Chapters 11-12 – Done!
Here are my overall goals for this round:
Format and release OVRWA holiday story anthology – Done and now available!

Revise Hangar 18 – revisions/markup done through Chapter 12  (of 14)
Keep up with my exercise, five times a week – ongoing
Win NaNoWriMo – on track with 43,063 words so far!
For this week, I'd like to:
Finish NaNoWriMo novel
If NaNo novel is less than 50k, write author's note and/or nonfiction project to add up to 50k
Physical activity 5x this week
Hangar 18 – review and markup Chapters 13 & 14
If you're participating in ROW80, how are you doing so far? If you're doing NaNoWriMo, are you on track to win, have you already won, or have you already conceded that you'll not hit that 50k (which I don't necessarily consider "losing")?

Jennette Marie Powell writes stories about ordinary people in ordinary places, who do extraordinary things and learn that those ordinary places are anything but. In her Saturn Society novels, unwilling time travelers do what they must to make things right... and change more than they expect. You can find her books at Amazon, Barnes & Noble, Smashwords, Kobo, iTunes, and more.