This week has been another of those where it feels like I've been busy all week, but haven't accomplished much. This time, it wasn't Facebook, but TAXES. Yep, it's that time of year in the U.S., and I had to collect all the tax documentation for our accountant. You'd think this would be easy, because I'm fairly organized with our paperwork, but with five businesses, it still adds up.
Yes, five businesses. None that are very big, but still, all have their own paperwork. Four of these were rental properties we owned (all but one of which are now sold). The other is my writing business. Got that done and met with the accountant yesterday, only to realize a couple hours later that I totally forgot to tally up the mileage and a few random business expenses here and there that were paid by personal credit card, and add those to our business expenses. :facepalm: So now I have that to do this week.
Tennessee update: Nothing much has happened there, because all it's done this week is RAIN. Rain, rain, and more rain. There are roads closed all over Knoxville due to flooding, and one of our neighbors' business places is flooded, too. No worries for our house, as it's on a ridgetop, but I feel for those who have all this water to deal with. The rest of the windows came in last week, but haven't been installed due to the constant rain. They're supposed to have a few dry days until they get a little more rain at the end of the week, so the windows should go in soon. Our hot tub was also delivered, as it will be much more easily installed if they can take it through the house before drywall goes in, which should start soon after the last windows are installed. But more important, I hope those whose homes and businesses have flooded are able to dry them out.
What I've Been Reading: Back to reading fiction (other than mine), a novel I'm really enjoying! But you know the drill. I'll write about it here when I'm finished.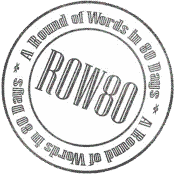 What I've Been Writing: No new writing. The goal was to get through my corrections. I came close, but due to the time I needed to spend on collecting stuff for taxes, I didn't quite get done. I do expect to finish this week, and get the book off to my first reader, and after that, it's time to start the next book.
This is where it gets scary. I've never written a whole book into the dark before, so we'll see how that goes. My goal for that is just to start.
I also need to do some work on my computer. It's been overheating lately, mostly if I walk away from it and leave it on. I pulled it out and opened it up the other day, and confirmed what I'd suspected–the case cooling fan isn't running. As long as I'm using the computer, it stays within an OK temperature, but if I walk away, it heats up pretty quickly. So I need to figure out if the fan's bad, or possibly just disconnected. Hoping it's not a software issue, as that's not software I have any kind of expertise with. The computer is nine years old, so nothing would surprise me. But it's fine other than the overheating, and I see no reason to replace the whole thing if only a fan needs to be replaced.
What about you–are you staying warm and dry? It's dry here in Ohio today, but super windy! If you're in the U.S., do you have your taxes filed yet? What else has been going on in your life? And how are you doing on whatever goals you might have, whether writing or otherwise? Please share in the comments–I love to hear from you!

Jennette Marie Powell writes stories about ordinary people in ordinary places, who do extraordinary things and learn that those ordinary places are anything but. In her Saturn Society novels, unwilling time travelers do what they must to make things right... and change more than they expect. You can find her books at Amazon, Barnes & Noble, Smashwords, Kobo, iTunes, and more.