We spent most of the past week in Tennessee, to check on the house, but also to meet with the neighbors on the unwanted business across the street. We met several neighbors we hadn't met before, or had only met online–all super nice people! And on Thursday, we attended a zoning board meeting.
The zoning change request for the business in question had already been postponed. After a couple of community meetings–one run by my neighborhood group, and one by the developer–they seem to have figured out that they won't be able to just quietly push this through, so they asked for a postponement of the zoning hearing. With that, we knew it wouldn't be discussed in this meeting, but DH and I, plus a few other neighbors went anyway, expecting it to be an educational experience.
It was. One thing I can say is, the Zoning Commission is nothing if not efficient. Three hours had been allotted for the meeting, but it was over in one. There were over thirty items on the agenda, however, probably half had been postponed. Of those remaining, only a couple had any controversy or opposition, so the rest were approved in a single, blanket vote. Of the other two, one was simply a neighbor representing a group who wanted some conditions on the proposed development, which the board and the developer both agreed to. The other was a group of condo owners who didn't want more condos built behind them. Their argument was weak, and the developer's request was granted. My group's focus is on the zoning board's posted policies, rather than us not wanting this business in our back yard, so we have a much stronger position when it goes to hearing.
On a related note, while we were there, crews were installing erosion-prevention fencing on the business's property–something the county ordered them to do two weeks ago.
Meanwhile, things are progressing on the house, although they're being held up a little because the custom shape window order had still not come in. The rest of the windows went in a couple weeks ago, and most of the siding is up. They also finished the decking and the breezeway. Rough-in plumbing and electrical are mostly done. Our builder and his crew were installing the big interior beams while we were there, which was exciting to see!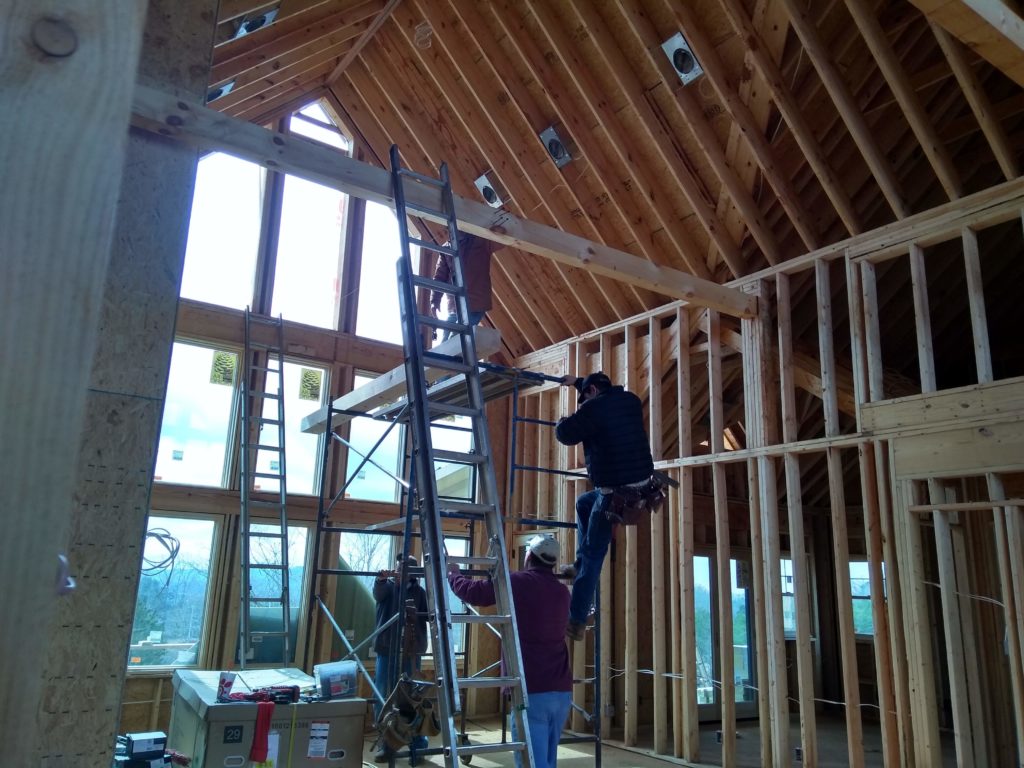 My husband asked the builder if he could use his Bobcat. The builder said "sure," so DH took off and cleared some trails around the property. There are two more new houses going in down the ridge from us, which we can't see because it's almost 1/4 mile away, and obscured by trees. DH cleared the overgrown mess on the ridgetop trail, so I was able to walk down there and see what kind of progress had been made. The land was cleared and a driveway put in, but that was all. I imagine the builder is waiting for better weather.
I also couldn't help noticing this incongruous scene behind the builder's porta-potty: a pink sink, daffodils, and a bulldozer. We asked where the pink sink came from, thinking it might have been beneath the pile of rubble a few yards away, that was once a little farmhouse. But there was actually quite a story behind that sink. It came from another job site our builder is working on, where his crews demolished an old mid-century modern home. Given the popularity of that style, I would have been surprised the house was torn down–except it was the site of a grisly, unsolved murder from fifty years ago! The story and photos of the house were in the local news when our builder did the demo a couple months ago, and it's a fascinating story. It was a beautiful house–but understandably, no one wanted to live there, so the new owners are building something new.
My husband also had some fun setting off a black powder cannon that evening. It was loud enough that another neighbor a half mile away heard it as clearly as if she'd been there–and it was pointed away from her place! Three neighbors joined us, and everyone had a good laugh.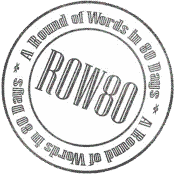 What I've Been Reading: Still my book, but finished last night! Overall, I did not find any major mistakes or fixes needed, so that's a good thing!
What I've Been Writing: Nothing, because I was focused on the read-through, which was my goal for this past week. For this week, my goal is to go through and fix the mistakes, and get the book to my first reader.
What about you–any news or discoveries in your life? Or even any educational opportunities? How are you doing on whatever goals you might have, whether writing or otherwise? Please share in the comments–I'd love to hear from you!

Jennette Marie Powell writes stories about ordinary people in ordinary places, who do extraordinary things and learn that those ordinary places are anything but. In her Saturn Society novels, unwilling time travelers do what they must to make things right... and change more than they expect. You can find her books at Amazon, Barnes & Noble, Smashwords, Kobo, iTunes, and more.