Note from Jennette: this blog post originally ran on August 15, 2011, and remains one of my most popular posts for people to find via search. Meanwhile, I'm working on my NaNoWriMo novel, and am now over 2/3 of the way to the 50,000-word mark!
---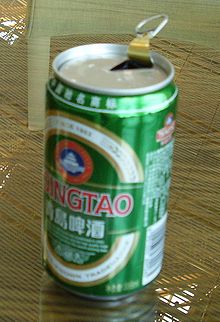 One of the fun things about writing (and reading) time travel stories is the whole fish-out-of-water aspect, especially when someone goes into the future. There is one scene in Time's Enemy, my newly-released time-travel novel, where a character from the 1930s comes forward to modern times. When she asks for a drink and is handed a can of Mountain Dew, she's understandably perplexed at what to do with it (and initially thinks it's moonshine, LOL).
Anyone remember drinking beer or pop ("soda" for you non-Midwesterners) from a can like this? Younger folks might not, but in the sixties, seventies, and into the early eighties, this is what you got if you bought beer in a can, or got a Coke, Pepsi, etc. from a machine. Of course, I also remember pop in glass bottles – you know, where you bought a six pack at Kroger and paid a deposit of $.05 – .10 per bottle, which they returned when you took the bottles back to the store.
But back to the cans – before they were like this, they required a can opener, like is still used today to open larger cans of juice, although those are now mostly replaced by bottles. The can opener had a sharp point on it, and poked a triangle hole in the edge of the can. A second hole was needed to admit air.
The pull tab shown on the can to the right came about in the early sixties, after Dayton tool-and-die maker Ermal Fraze went on a picnic, and forgot to bring a can opener for the drinks. According to the stories, he ended up prying cans open on a car bumper (???), then went home and devised a can with a built-in opener – the pull tab.
The pull tab was eventually superceded by the now-familiar push-in top in the eighties, but it was the pull tab that helped push cans to edge out glass bottles in popularity as a beverage container. Fraze's legacy lives on today in the form of full-top pull tabs that are still commonly used in canned snacks like peanuts. Dayton Reliable Tool (now DRT Mfg.), the machine shop he formed in the 1940s, is also still in business in Dayton today.
Do you know of any cool little details that we take for granted today, that originated in your hometown? Please share!
Sources: http://en.wikipedia.org/wiki/Beverage_can
http://web.mit.edu/invent/iow/fraze.html
http://www.heartlandscience.org/manuf/poptop.htm
Photo of beer can via Wikipedia, public domain | Photo of Ermal Fraze via Heartlandscience.org

Jennette Marie Powell writes stories about ordinary people in ordinary places, who do extraordinary things and learn that those ordinary places are anything but. In her Saturn Society novels, unwilling time travelers do what they must to make things right... and change more than they expect. You can find her books at Amazon, Barnes & Noble, Smashwords, Kobo, iTunes, and more.