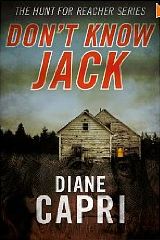 Once again, I'm doing some reading outside of my normal fare. This time it's Don't Know Jack, by Diane Capri. I'm not sure how to categorize this – mystery? Thriller? Suspense? It's all three! One thing it's not is romance. Normally, I like at least a little romance in my books, and there's none here – and it totally works!
What IS in this book is nonstop action, answers that only lead to more questions, and more twists than the Dragon's Tail.* The main character is FBI agent Kim Otto, a young FBI agent on her first assignment as Number One, who's determined to prove herself in that role. Her second is Carlos Gaspar, seasoned agent and father of four who's managed to hold his post despite an injury that's left him with constant pain in his leg.  The two are tossed together by "the Boss," a mysterious, enigmatic figure who they never name, and speak to only when he calls on the special cell phones he provided. Their assignment? An "under the radar" mission to build a file on Jack Reacher.
I'm coming at the book from a different perspective than most readers probably are: I've never read a Reacher novel, or anything else by Lee Child – a cultural shortcoming I'm planning to correct. For others like me, Reacher is a former special ops soldier turned mercenary? Government operative? No one knows. But he's ruthless and will stop at nothing – including murder – to complete his mission, which is inevitably something for the greater good. Reacher lives so far off the grid, he hasn't been seen or heard of in fifteen years, yet the Boss is certain he's alive (and there's no evidence to the contrary).
Otto and Gaspar meet in a small, Georgia town where they enlist the help of the police chief – a woman who knew Reacher way-back-when, and whose motives – and loyalties – are unclear. They immediately get wrapped up in her investigation of a simple, spousal murder that's anything but. It should be a local matter, but every indication points to the Boss intending them to get involved.
The Boss himself is an enigma. He calls at the most opportune (or inopportune) times, and always seems to be one step ahead of Otto and Gaspar on this wild chase he's sent them on. Their search eventually takes them to a high-end escort service in DC that Otto has a surprising connection to, to Switzerland, and back across the U.S. in a chase where the stakes increase by the minute.
If you like a good mystery steeped in action, Don't Know Jack is a book you Don't Want to Miss!
Don't Know Jack (The Hunt For Reacher Series)
is currently an Amazon exclusive, and can be borrowed for free if you are an Amazon Prime member. You can learn more about Diane Capri, and how this book came about, on her website.
Have you read Don't Know Jack? Or are you planning to? Read any other good books lately? Feel free to share!
* U.S. Route 129 at the border of Tennessee and North Carolina – 318 curves in 11 miles