The blog was a little late today, because my husband and I had some shopping to do:
That's the lumber for all the stuff I'll be building (or rebuilding) for the rental house. Custom U-shaped shelves for the pantry, re-cutting and staining the shelves and bench for the mudroom, and the open shelves to go in the kitchen. When the fire happened, the pantry was finished, and the rest of those were stained and waiting to be installed.
After the fire, when our plan turned to selling the place, we decided to deck out the upstairs with a sweet new bathroom, and a 14′ walk-through closet. The latter will need custom closet organizers, since one of the walls is a 5′ high knee wall. It's also getting a barn door, since the opening on one end is an odd size. There will be a second barn door in the dining room at the bottom of the steps. We could buy them for $300-400 each… or build them for less than $100, and get them custom sized to boot. I found this great online tutorial, and they don't look that difficult. So my work is cut out for me for the next couple months! Oh wait, it's not cut. I have to do that too. It will be fun. 😀
On another note, I promised last week I'd share some books that helped me learn about adrenal fatigue (I slept well last night for once, thank goodness, or that shopping trip and carry-in would have been rough).
I started out thinking maybe it was just the onset of menopause, so I found Female Brain Gone Insane by Mia Lundin. While I wasn't having the dramatic mood issues many of her patients were in the anecdotes, a lot of the other things these ladies were dealing with sounded familiar. I had never heard of adrenal fatigue until I reached the last section in this book, and it was a major light bulb moment–these were the symptoms I was dealing with! I also got started on vitamins and supplements due to what I read here.
The next book I picked up was Is it Me or My Adrenals by Marcelle Pick. This went into a lot more depth, since it was focused solely on that subject. This was also the one that promoted diet as the main fix for adrenal fatigue–a time-consuming, labor-intensive meal plan that eliminated all processed foods and sugars. I tried one week of the recipes, and didn't even make them all–who has the time and energy for that, on top of a full-time job? Not me.
I'm Too Young for This! by Suzanne Sommers focused more on menopause and perimenopause, but had some good info in it. I reviewed it here.
Adrenal Fatigue: The 21st Century Stress Syndrome by Dr. James Wilson is probably one of the first books to come out on this subject, and goes into it in even more detail than Is it Me or My Adrenals. Wilson is one of the pioneers in research for it, and I loved that this book went over the history of the condition. Adrenal fatigue has been recognized since the late 19th/early 20th centuries, and was commonly treated then. This came in handy when I was writing Time's Best Friend, when I needed a reason Florie's mother couldn't step in and help her all the time. I figured, why not get some use out of my own experience? 🙂
Author Fawne Hanson offered me a copy of her book, The Adrenal Fatigue Solution, in exchange for an honest review, after seeing me mention the above on my blog a while back. The book was good and contained a lot of good information, and I reviewed it here. The book isn't available anywhere I could find except her website. Her website also has a lot of good information.
What I've Been Reading: Smith's Monthly #39 by Dean Wesley Smith, featuring the novel Ace High. This is the novel he wrote in five days while on a trip to Las Vegas. It's amazing what we can do if we prepare properly, have the right mindset, and are used to just sitting down and writing, which is his process. And Ace High was really good, one of his Cold Poker Game mysteries about retired detectives solving really twisted crimes–proof that as a reader, I can't tell how fast a book was written, whether or not it was revised (he doesn't), and whether or not it was outlined (he doesn't).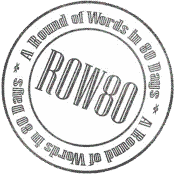 What I've Been Writing: Unfortunately, again, not much. I think this scene just isn't interesting me enough (which means it won't interest readers, either). I need to just wrap it up quickly and move on, and trim it in the process. It's not like my book isn't already long. 😀 So that's my ROW80 plans for this week: Trim and finish that scene, and begin the next, which should be fun.
What about you–as a reader, can you tell if a book was written fast or slow, or with or without an outline? Have you ever built shelves, and if so, do you have any suggestions for me? And how are you doing on whatever goals you might have, whether writing or otherwise? Please share in the comments–I'd love to hear from you!

Jennette Marie Powell writes stories about ordinary people in ordinary places, who do extraordinary things and learn that those ordinary places are anything but. In her Saturn Society novels, unwilling time travelers do what they must to make things right... and change more than they expect. You can find her books at Amazon, Barnes & Noble, Smashwords, Kobo, iTunes, and more.