If so, you're not alone. And it's a pretty common state for me too, since I have Adrenal Fatigue. Also one reason why I'm just now getting around to posting this.
The other reason is that my husband and I stopped over at the rental house. After learning last week that our renovation and enhancements are going over budget, we looked over the contractor's list of tasks to see what we could take on ourselves. For my husband, that includes refinishing the hardwood floors… again. For me, that includes rebuilding the custom U-shaped shelves for the pantry, and building the mudroom and kitchen shelves, part of which were done before the fire. I'll also be building some simple closet organizers for the new second floor master suite closet. I needed measurements for these, because the pantry had to be completely re-walled (that was in the part of the house where the fire was), and the master closet is new.
I'm actually looking forward to building these, because some of the rebuild will actually simplify them from what was there before. They'll also be good practice for our new house–we are planning to finish out the lower level ourselves. Also I like building stuff. Once I do them, I'll detail them out here. I know for me personally, it was surprising what I can build once I believed I could. I'll write more about that sometime, too.
One of the things that gets between me and building stuff, writing, or heck… anything, is fatigue. And before I go further, I have to give the standard disclaimer: I'm not a healthcare professional, nor do I write about one, and this is not medical advice. I'm just sharing my own experience, and encourage you to consult your own healthcare provider, do your own research, etc.
Some days the fatigue is worse than others. Those days tend to be ones where I slept even less well than I normally do (yeah, insomnia is a symptom of adrenal fatigue, go figure). My migraines also figure into this, as does the weather: dropping barometric pressure and rain=bad, sun=good. And it's much worse in winter, with cold, short days. I'm always happy for daylight savings time to begin.
So what the heck is adrenal fatigue? Well, you might have adrenal fatigue if:
You are tired all the time and all other reasonable explanations have been ruled out.
You are or have been under a lot of stress.
Caffeine and other stimulants are of minimal help, but are still necessary to get through the day (or at least get it started, in my case).
Alcohol makes you really, really tired.
You're totally wiped out at the end of the day, yet you can't sleep.
You have an illness that you just can't kick. You get sick easily, and when you do, it takes forever to get over (because adrenal hormones are instrumental in immune system function and recovery).
You are often cranky, depressed, and/or easily frustrated.
You have frequent digestive issues.
You are a lady of a "certain age"
You have brain fog…
Of course, most of those are symptomatic of many other things too, especially menopause. So yeah, ladies of a certain age (like me) are particularly susceptible to adrenal fatigue. But anyone can get it, including men. However, the biggest indicator of adrenal fatigue is our cortisol levels.
Cortisol gets a bad rap for being the stress hormone, and indeed, that's how earlier-stage adrenal fatigue often starts out. When we're constantly stressed out or in a state of high alert, cortisol levels go up–basically, the body's fight-or-flight response. Normally, it's not a matter of life-and-death in modern society, but our bodies don't know the difference between running from a tiger, and trying to meet a deadline when the boss throws more changes at you every few minutes. The problem happens when cortisol levels go up… and stay up. This takes your body's energy away from functions like higher-level brain function and digestion, causing problems in those areas. This ultimately results in a tired-but-wired state.
Eventually, the adrenals can't keep up with the constant demand, and cortisol production slows. This results in one being tired all the time. Because you see, it's cortisol that gives us energy. When the adrenals are injured to the point that no cortisol is produced, this is a very different condition than adrenal fatigue called Addison's Disease, and it's life-threatening. Adrenal fatigue isn't life-threatening, it's just being low-energy.
The job I've had for the past ten years isn't particularly stressful, nor do I have problems around the home adding to stress. But in the past, I have tended to push myself with the writing, and that can add up when combined with all the other responsibilities we all have around the home, the need to do-all-the-things. Illness and injury can trigger it too, as well as working or living in an environment where one is exposed to a lot of toxins in the air/water/etc. And finally, being menopausal or perimenopausal adds to the stresses on the adrenal glands, as when the production of sex hormones slows, the adrenals try to pick up the slack. I had a bad bout of flu in 2014, which is when the fatigue really kicked in, and I'm also at that "certain age." So in my case, a number of factors contributed.
Before I go on, let me say that I hope this doesn't sound complainy, because it's not. Every time I catch myself thinking like that, I remember that I'm not fighting cancer, as some of my friends are. Adrenal fatigue is really not a big deal; I'm just tired. It does affect my life, but only minimally compared to what an injury or illness would. I'm sharing this because adrenal fatigue afflicts many, many people who may have never heard of it, because it hasn't received much (if any) emphasis in medical education for decades. Because of that, and the fact that so many other conditions share its symptoms, and there's no formal insurance code for it, most traditional doctors don't diagnose it. It's much more likely to be identified by a practitioner of functional medicine or bioidentical hormone replacement therapy.
This is getting long, so I'll pick up next week with more info on how adrenal fatigue is identified, how it can be treated, and some references you can check out to learn more–because again, I'm not a healthcare professional.
What I've been Reading: This week, I finished Smith's Monthly #38 by Dean Wesley Smith, including the novel The Deep Sunset. This novel was in the Ghost of a Chance series, about ghost agents who use their powers to help people and sometimes, save the world. I don't know if it's because my reading of it was kind of broken up, but this one seemed more convoluted than any in this series so far, and I found it a little hard to follow. It also included a larger cast of characters, some of whom I "knew" from another series, but many of whom were new, so a lot of people to follow too. But it was still entertaining enough to finish. This is a fun series and I do recommend it, but not to start with this book, even though they don't need to be read in any order.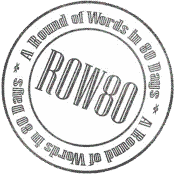 What I've been Writing: I finished the read-through of my WIP on Sunday, and got back into writing on Monday. Even better, I wrote for four days out of the week, and finished a scene for a total of about 2100 words. So, win! This week, I want to write another scene, or better yet, two.
What about you–had you heard of adrenal fatigue? Are you interested in learning more? Feel free to ask questions! Have you read anything good lately? And how are you doing on whatever goals you might have, writing or otherwise? Please share in the comments–I'd love to hear from you!

Jennette Marie Powell writes stories about ordinary people in ordinary places, who do extraordinary things and learn that those ordinary places are anything but. In her Saturn Society novels, unwilling time travelers do what they must to make things right... and change more than they expect. You can find her books at Amazon, Barnes & Noble, Smashwords, Kobo, iTunes, and more.