…at least where writing was concerned. As I mentioned in last week's post was very likely, sure enough I did not get any writing done. Maybe I should have titled this blog, "Writing Excuses"…
Part of the reason is because I'm coming up on the climactic scene, which I find to be the hardest part of the book to write. In this case, I'm also fighting "fear of I-don't-know-what-happens-next," since I didn't outline this book to that extent. Anymore it seems that when I do outline, I deviate so much from it, it's not being worth the bother, so this time, I didn't outline. I doubt it would have helped even if I had, because… deviating.
We also had a house guest for a couple days this week–a writer friend from New York state! We haven't seen each other in seven years (too long!) so it was great to see her and spend some time together. It was also exciting to show her my hometown and its fascinating history, almost all of which was new to her. We spent an afternoon at the National Museum of the USAF, and another at Carillon Historical Park. She loves learning about the history and quirky details of the places she visits, so these were right up her alley (and of course, mine). We spent a lot of time in the evenings just catching up–well worth giving up some writing time.
Our tomatoes are also still producing like crazy, so yesterday, I froze some. It's a simple process that my mom remembers my Great Aunt Marie doing many years ago. Just boil the tomatoes for ten seconds, then dunk them in cold water for at least ten seconds, and the skins peel right off! After that, they can be cut however you like, bagged, and frozen. I bagged five quart bags full, which should come in handy for a cooking day this winter!
And finally, the other reason I didn't get much done on my WIP is that my brain is just not on writing–at least not fiction. Instead, it's focused on things like researching water heaters, specifying French doors, learning about smart home devices like door locks. And writing down what I like for our new house. Once I finish, this will be like a requirements document in software, only for our new house. It will help our builder know what's a change order ("That's not in the book") and will help us know if someone screws up ("The book said the pantry is supposed to be white" [that actually happened with our flip house]).
Tennessee Update: our builder was expecting to have the ridgetop leveled by tomorrow or Tuesday, so we're heading down to check it out and stake out the exact location of the house later this week. Hope to have a better update and pictures next week!
What I've Been Reading: I am almost finished with the novel I started last week. It's really good, so I'll definitely be discussing it here. It's also long, which is why I'm not yet finished.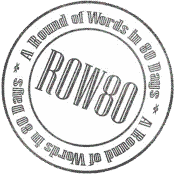 What I've Been Writing: As noted above, nothing! I really just need to start writing and see what the characters do. With the trip to Tennessee, I don't know how much chance I'll have to dig into the WIP, but who knows, stranger things have happened, and sometimes I do well writing away from home. So this week, I'll just set a goal to write something–anything–in my WIP. However, this ROW80 round is coming to an end this week, and I just realized I already met my goals for the round! They were to finish the writing workshop I was taking, Holly Lisle's How to Write Villains. I finished that about a month ago. The other goal was to finish a chapter in my WIP. I did that last week. Baby steps for the win! I will set goals for fourth quarter in a couple weeks, in time for October and ROW80 Round 4.
What about you–how has your week gone? Ever had one of those where it seemed you got nothing done, but when you thought about it, you actually got a lot done? How are you doing on whatever goals you might have, whether writing or otherwise? I'd love to hear from you–please share in the comments!

Jennette Marie Powell writes stories about ordinary people in ordinary places, who do extraordinary things and learn that those ordinary places are anything but. In her Saturn Society novels, unwilling time travelers do what they must to make things right... and change more than they expect. You can find her books at Amazon, Barnes & Noble, Smashwords, Kobo, iTunes, and more.