We went to Tennessee this week, and our land looked quite different from the last time we were there! We went straight to the property when we arrived in town, rather than to our hotel, and the changes were obvious, starting with our new driveway! There was already a driveway onto the property, and we'll use the same approach from the street and first few yards, but the builder suggested routing it a different way to go up the hill that would be a little shorter, easier, and most importantly, less expensive.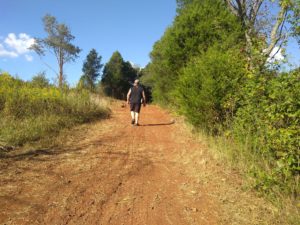 When we got to the top, we found that the builder had completed leveling the top as promised: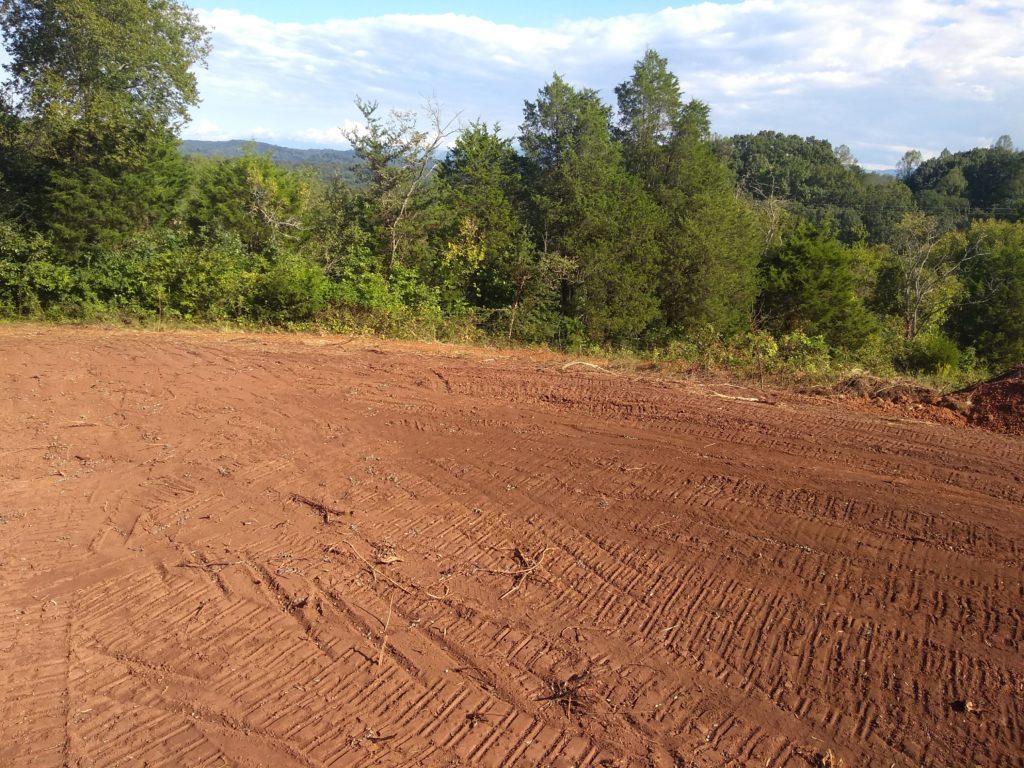 The bulldozer was still parked up there, too.
We came back the following morning to meet with the builder, and also met his foreman (and bulldozer operator). Then, we went to three different places to discuss windows, and try to figure out what would be the best material combination for our budget, while still being of good quality and energy efficiency.
That evening, we went back to the property. The building foreman had left us some wood in the middle of the leveled area, as my husband had mentioned that he wanted to come back for a campfire.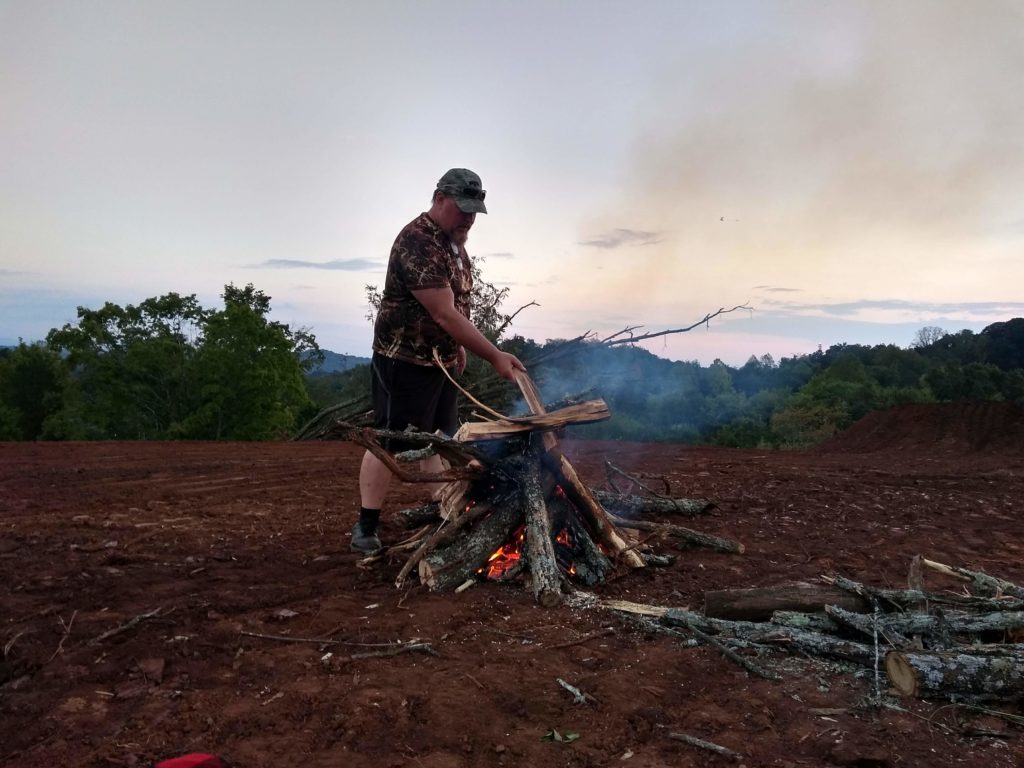 So that's what we did. We watched the sun set and the sky darken. Being on the ridgetop with no buildings around, it looked almost like a planetarium, with the sky looking like an inverted bowl as the stars slowly came out. It was very clear, but not a good night for stargazing as there was a very bright half moon. It was that kind of clear night where sound travels a long distance–we could hear our next door neighbor calling her chickens in (1/8 mile away). We could hear the neighbors around the corner (3/8 mile away) jamming on some headbanger music (as in, they have a band). Not loud enough to be bothersome, and luckily we like that kind of music. 🙂 (We heard them playing when we looked at the property, so it was not a surprise.) We could hear traffic on the busy road almost a mile away–again, not bothersome, and even with those sounds it was very peaceful up on the ridge.
We returned the next morning to meet with the builder, staked out where the house would go, then the foreman got busy widening the leveled area.
All in all, a successful trip! Now it's really starting to feel real. Exciting, but also scary.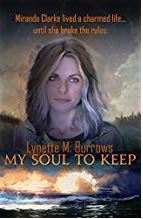 What I've Been Reading: Right before we left on our trip, I finished My Soul to Keep, an alternate history novel by Lynette M. Burrows. And wow, what a fantastic book! As a time travel writer, this was the kind of story I love. It takes place in 1961 in a very different USA than the one we know. In the story world, the Axis powers won WWII, and the US became a religious state, where women had even fewer rights than they had decades ago in the real world. The story centers around Miranda, the daughter of a religious leader who runs away from an arranged marriage and realizes she's been living a lie. Fascinating worldbuilding, with lots of historical details from the real world dropped in along with those of the changed world. Relatable, interesting characters and one exciting scene after another that's action-filled yet makes one think, make this a book I highly recommend. Can't wait for the next one in the series!
What I've Been Writing: Not fiction, that's for sure. My brain has been consumed by house stuff this week, and since our return from Tennessee on Friday, I've been working on what I call "the House Book." This is where I'm making notes of things I want incorporated into the construction, finishes, fixtures, trims, colors, and more. Not only are there seemingly a million decisions to make on this stuff, some items have an overwhelming number of choices. In addition, some things require research (at least, that's how I roll), so writing up the spec book is not a quick task. I'm probably half done with it (maybe?) and hope to finish this week. If I don't get it all done, I at least have completed the parts our builder will need first, namely roofing, exterior, windows, doors, and plumbing.
How about you–what's been going on in your life? Have you read any good books lately? Any tips to share with me on picking finishes for our house? I'd love to hear from you–please share in the comments!

Jennette Marie Powell writes stories about ordinary people in ordinary places, who do extraordinary things and learn that those ordinary places are anything but. In her Saturn Society novels, unwilling time travelers do what they must to make things right... and change more than they expect. You can find her books at Amazon, Barnes & Noble, Smashwords, Kobo, iTunes, and more.