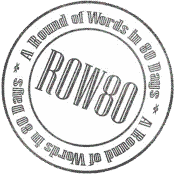 I did not accomplish any of my goals this week, although I came close on the dress.
I am still sick. What's worse, I discovered I'm not really sick.
I started taking a new (to me) medication for my migraines a month ago. This was not without a bit of trepidation, because the list of potential side effects from this stuff is about three miles long. But I figured it was worth a try.
It's worked great on my headaches; it's even zapped my muscle-tension neck pain. I was feeling great until I came down with this nasty cold about two weeks ago. But I was looking up something about the medication the other day, and saw one side effect I hadn't noticed before: "flu-like symptoms."
Are you freakin' kidding me? Hmm, what a choice: headaches, or being sick all the time??? Not to mention, I have plenty to do at the day job too, and my family has been more than patient at home. They are truly a blessing. But forget doing anything creative, like writing.
This medication is definitely not for me, so I am talking to the doctor about going off it (it's one of those you can't just stop taking). So I hope to be back in the game by the next round of ROW80.
What about you – have you had any unexpected slowdowns forced on you lately? If you're doing ROW80, how did you do you your goals? Will you be back in April?

Jennette Marie Powell writes stories about ordinary people in ordinary places, who do extraordinary things and learn that those ordinary places are anything but. In her Saturn Society novels, unwilling time travelers do what they must to make things right... and change more than they expect. You can find her books at Amazon, Barnes & Noble, Smashwords, Kobo, iTunes, and more.