Time to post new goals! The second quarter of the year begins today (no fooling!), and with it, Round 2 of ROW80.
First of all, I'd like to thank those who've offered encouragement over the past few weeks! It means a lot to me, and really did help me keep going in what small measures I did. That is one of the best things about ROW80, is that there's always someone to cheer us on when we're doing well, and someone to commiserate when the going gets tough. I'm not a sponsor this round, but I do plan to visit plenty of ROW80 folks and give that all-important encouragement!
My writing goals kind of fizzled last round. I spend most of March sick and/or in a drugged stupor, and did well to get anything done at my day job (which I did). By the time I got home, no energy, mental or otherwise, for writing, workouts, or much of anything else.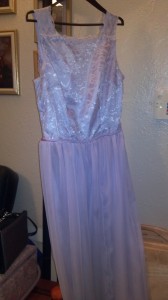 I did get a lot of progress made on the prom dress. Unfortunately, we were not able to really determine fit until I got this far, and we discovered that it's too big. Most of this is the length of the bodice; my daughter's short like me. This is a vintage 1950s pattern, and those didn't have the easy places to lengthen/shorten like modern patterns do. So there's some taking apart and redoing coming up this week. My daughter's prom is the last weekend in April (and the following weekend too – her boyfriend goes to a different school), so I need to really get cracking on this. I also have a website design for a family member's startup business that's been put off due to me being sick. Therefore, I'm going to start with small writing goals, but mostly focus on the dress and website design.
Writing goals for this round are going to focus on new words. For the overall challenge, I'd like to work up to 5,000/week. I've done 12k/week for NaNoWriMo, so this should be easily doable for me-except for the other priorities I have going. But that's later. For this week, let's start simple:
The giveaway has ended. Thanks for your interest!

Dress: rework for fit and complete overdress portion (it has an underskirt and petticoats as well)
Web design: simple placeholder home page design
Writing: 1,500 words on short story
The best thing about ROW80 is we can change our goals as circumstances change, so that's what I'll be doing if need be. Here's hoping I don't have any of the kind of setbacks last month was, and hoping for the same for you! Whether or not you're doing ROW80, what goals do you have for the next three months – or heck, for this week? I'd love to hear from you!

Jennette Marie Powell writes stories about ordinary people in ordinary places, who do extraordinary things and learn that those ordinary places are anything but. In her Saturn Society novels, unwilling time travelers do what they must to make things right... and change more than they expect. You can find her books at Amazon, Barnes & Noble, Smashwords, Kobo, iTunes, and more.