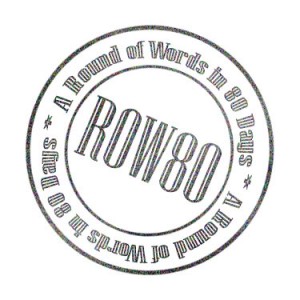 On the gerbil front, things are just peachy! We removed the divider on Monday, and things were a little touch and go as there was a lot of chasing and confrontation to establish who was the alpha, mostly between Sandy (our older gerbil) and Finn. They were still at it when we were ready for bed, so we replaced the divider.
Later in the week, it occurred to me that a cage cleaning might help, as the bedding would have had more Sandy-scent on it than the young gerbils' scents. It did the trick, and we now have a happily-slumbering pile of gerbils in the corner of the tank!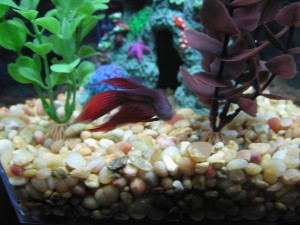 I also added to my menagerie yet again the other day. Last Christmas, I asked for a fancy, lighted 5-gallon aquarium and other stuff for a betta fish. One of my coworkers has one at the office and her fish is so fun to watch! I got a couple things, but didn't receive the aquarium until my birthday a couple weeks ago. So Friday we made another trip to Pet Supplies Plus, where I bought food, gravel, and the tank's occupant.
I chose the fish that got the most excited when I reached for his cup, a pretty red betta with iridescent blue highlights. Boy does he love his new home! He zips around in it all day. Thus, his name: Zippy. He sits on my desk, so hopefully he'll bring a little "zip" to my writing process.
Unfortunately, there hasn't been much of that this week, and even less in the fitness department:
Complete Lesson 7 of How to Think Sideways

, plus Lesson 6B, which I missed last week.

– Lesson 7 done, still working on 6b.

It's more time-consuming than I expected.
Cover design for Times Two

– started, but not done.

Three interval workouts and two shorter workouts.

I can blame migraines and too much running around, but that's just an excuse. Going to do better this week!

Track exercise and consumption

– uh…. no.
I checked with my beta readers for Hangar 18, and that's not going to be ready in time for the deadline. So my focus there has switched to Times Two. Overall goal progress:
Release Time's Fugitive, in both ebook and print – Done!

Complete Holly Lisle's How to Write a Series workshop – Done!

How to Think Sideways workshop – complete through Lesson 8 – on track!
Release Times Two (Time's Enemy/Time's Fugitive box set) as an ebook – on track!
For this week, I'm going to go a little easy again. I have a  Memorial Day party later today, and a Readers con this coming Friday and Saturday, both of which will be fun but make it hard to track food. So I'm scratching that for this week, but still going to try to get my workouts in. It does, however, mean less time to work on my writing.
Complete Lesson 6B of How to Think Sideways
Cover design for Times Two
Three interval workouts and two shorter workouts
How are you doing in this round of ROW80 – or if you're not a writer, or not doing the ROW, for this spring?