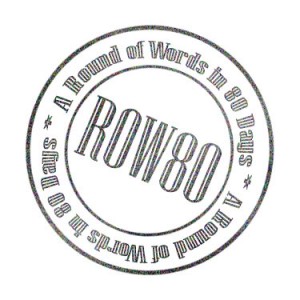 Yesterday, I wrote about unwrapping gifts, today I'm wrapping – both gifts, and my Round of Words in 80 Days goals.
I did not accomplish nearly what I'd hoped, but I learned a lot – mostly about my limitations, and being realistic. Which was a big Fail this week – after my posting about learning to set goals while taking into consideration what else I have going on, I totally forgot that as I set this week's goal, as well as forgetting that the challenge ended yesterday, not Saturday. So instead of getting a whole chapter marked up, I got one scene. Add to that an unplanned dinner out last night and… well, even if I'd been realistic, the goal would most likely not have been met.
As for my initial, overall goal of finishing my revision by November 7? Was I smoking crack?? I'm STILL not done. Thankfully ROW80 lets us adjust our goals, so I backed off the above goal to simply being finished with the revision by the end of the challenge. Closer, but even then I wasn't quite being realistic. If I'm industrious during the next week, I'll have it done by New Year's, and out to the beta readers.
So that's a wrap for ROW80. Are you a writer and want a kind but swift kick in the pants? Join us next year, on January 2, when ROW80, 2012, Round 1 begins. See you then, and have a great rest-of-the-year!