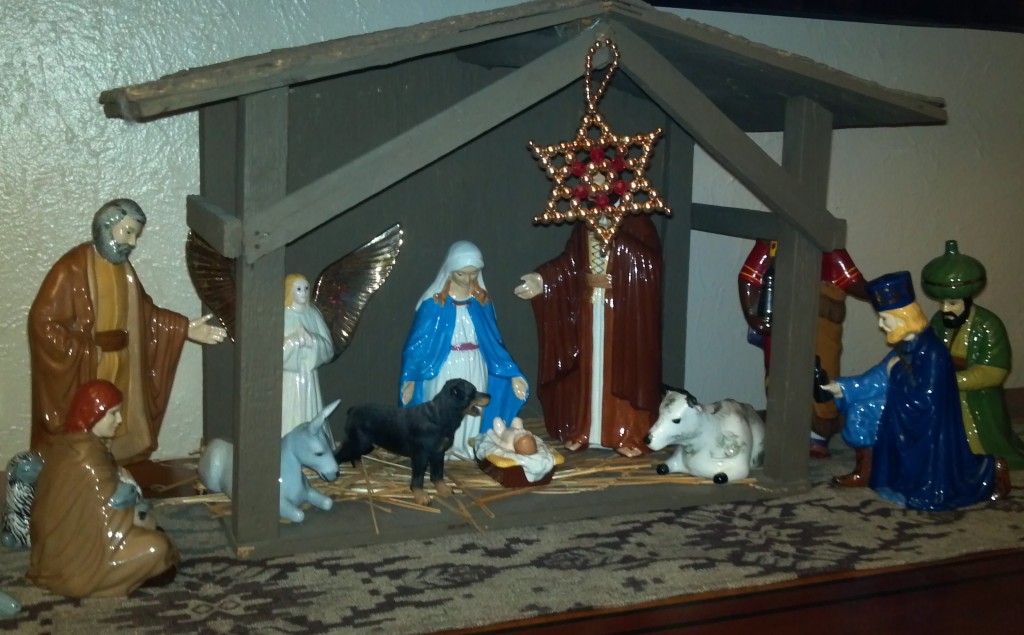 I'm keeping it short and simple this week, as holiday activities kept me busy all weekend, leaving no time for blogging.
I painted these ceramic figures when I was in high school. My grandpa built the stable out of some scrap wood and bark, so that's always been special to me. The Star is actually an ornament that seemed to fit better here than on a Christmas tree.  The Rottweiler is an addition that happened the year DH & I got married: he thought there should be a dog guarding the holy family and the livestock in the stable. It made sense to me, so it's now a yearly tradition.
We had a nice time with family yesterday, and everyone got some nice things they'd been wanting.
Have you modified any of your holiday decorations to make them more meaningful to your family?
I hope you had a great holiday, whichever one you celebrate! Or if you don't celebrate any, I hope you're getting a day off work that you're enjoying – or failing that, extra pay!
The My Town Monday blog has been quiet lately – my guess is the other participants have been extra busy too, so hopefully it will return after New Year's!