Another good week! And that was with adding a task I hadn't planned for – but it's all good!
A few weeks ago, my friend Michele Stegman put out a call for guest posts on her blog. She wanted to celebrate Valentine's Day by spending the month of February featuring the real-life stories of how romance writers met their real-life heroes.
So I wrote up my story, sent it to her, and pretty much forgot about it until the day she'd scheduled my story to post. Oh, I went to her blog and commented some of the others stories – there are some good ones! – and tweeted a few, but that's about it.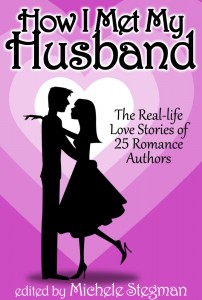 A couple weeks ago, she asked me if I'd like to be in an anthology – not a new story (thank goodness, since short stories are something I haven't really mastered!) but my real-life story, "Looking for Mr. Goodwrench." It turns out her husband had read some of the stories, and suggested she collect them into an ebook.
Thus was born How I Met My Husband: The Real-life Love Stories of 25 Romance Authors. I designed a cover and helped Michele with some of the formatting, and guess what – I have a new release on my virtual bookshelf! It's free on Smashwords, and $0.99 on Amazon (although you can download the Kindle format on Smashwords). We expect it to be available on Barnesandnoble.com, iTunes, Sony, Diesel, and Kobo ebookstores soon. These are fun stories that you can read in a few minutes – great while you're waiting in line somewhere! And there's an excerpt of each author's latest release. Did I mention it's free? So if this sounds like something you like, go to Smashwords, download your free copy, and read how I met my own, personal Mr. Goodwrench.
With my graphic design background, I'm super picky about formatting and of course, the cover art, so this did take me some time. But I still managed to get my ROW80 goals accomplished, because I'd left them flexible, and allowed room for surprises!
Last week's results:
Review HTTS Lessons 1-5

Send Hangar 18: Legacy to beta readers

Finish budget for RWA chapter (I'm the treasurer)

Set up reader newsletter

Three interval workouts plus two short workouts

Track food intake every day (Still missed a meal or two on this one)
I marked my first goal, review Lessons 1-5 in How to Think Sideways, green, even though I technically didn't do all of them. I actually reviewed Lesson 1 the week before, and didn't get to Lesson 5. But I marked it green because I decided I wanted to do her How to Write a Series course before going further with the plans for a single book, because the book I want to work on next is indeed the start to a new series, and I want to do this right. I completed Lesson 1 yesterday, so I count that as being equivalent to a lesson on HTTS. What's awesome about HTWAS? The work I do for the exercises and worksheets will be the start of planning out my book.
Next week's plans (I can't believe this round is over after this week!):
View videos 1-3 for Lesson 2 of How to Write a Series (yep, this is the one that has videos. They're worth it.)
Complete worksheets for part 1 and 2 of HTWAS Lesson 2 (These are very in-depth and will take a while!)
Request two more beta readers for Hangar 18: Legacy
Write content for reader newsletter and start promoting it
Three interval workouts plus two short workouts
Track food and exercise each day
OR, if my copy editor finishes with Time's Fugitive, put off items 1 through 4 to get that formatted and uploaded, since that was my primary objective for this ROWnd.
How did you do this week? Have you had to change plans lately regarding your goals? Are you still on target to meet your goals for this ROWnd? I'd love to hear from you!