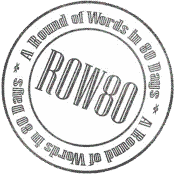 This week's ROW80 goals were a mixed bag. I'd forgotten to take into consideration that my RWA chapter was having a long workshop on Saturday, so that cut into my goal time. I also missed a workout, but that's not bad. Here's how it went:
Format and upload Home for the Holidays anthology if all materials are received – I got the last story and sent out to the authors to review. Didn't get that back until Friday night, but I still managed to get the ebook formatting done. Didn't upload, but that's because I decided to wait until the print version was up, so I'm going to consider this one Done.

Physical activity 5x this week – Not quite – but I got 4x in.

Hangar 18 – re-order scenes (this was probably the biggest revision), and print out for markup – Done!
Get it Together exercises 13 & 14 – No

I also got some more outlining done on a "just for me" project that I may write for NaNoWriMo
Here are my overall goals for this round:
Format and release OVRWA holiday story anthology – moving along!
Revise Hangar 18 – revisions/markup started
Keep up with my exercise, five times a week. – ongoing
Finish the Get It Together exercises (description of that here) – completed sections 3 – 12
For this week, I'd like to:
Format Home for the Holidays print book, and if proof received, OK and upload ebooks.
Physical activity 5x this week
Hangar 18 – review and markup Chapters 1-3
Get it Together exercises 13 & 14
If you're participating in ROW80, how are you doing so far?

Jennette Marie Powell writes stories about ordinary people in ordinary places, who do extraordinary things and learn that those ordinary places are anything but. In her Saturn Society novels, unwilling time travelers do what they must to make things right... and change more than they expect. You can find her books at Amazon, Barnes & Noble, Smashwords, Kobo, iTunes, and more.