Last Thursday, I attended a meeting of the Dayton WordPress Users Group, where we talked about security.
This was something I'd thought about a while back, when I read this blog by Marcy Kennedy. I knew a few other writers whose blogs had been hacked. I'd never had any problems myself, but that's one of those things where it's far better to be preemptive. So a while back, I installed one of the security plug ins Marcy mentioned. I learned a few things at our local user group meeting too, and I was able to contribute, because the guy presenting hadn't heard of the plug-in I used.
Bottom line with your website/blog's security, get it before you need it!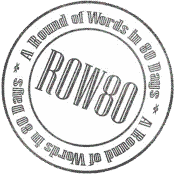 I did well with my ROW80 goals this week, too – I accomplished the main thing I set out to, which was complete the edits for my upcoming science fiction romance novel. I then went one better and got some formatting done too!
Finish edits for Hangar 18: Legacy – Done!

Fitness activity 5x – Done!

One chapter's exercises in Get it Together, an estate planning guide. I wanted to do this last ROW, but wound up putting it off when I decided to do NaNoWriMo. This is stuff that isn't very fun to do (or even think about), but that really needs to be done. – uh, no.

Be a good ROW80 sponsor and visit all the blogs I'm supposed to at minimum.  – Done!
For this week, I'd like to:
Format Hangar 18: Legacy for print, proofread, and upload to printer
Fitness activity 5x
One chapter's exercises in the estate planning guide
Be a good ROW80 sponsor and visit all the blogs I'm supposed to at minimum
What are you planning to do this week? If you have a website or blog, have you thought about securing it? I'd love to hear from you – please share!