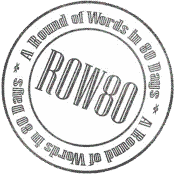 That's right, it's ROW80 round 3, and I totally missed the first week! No excuses, really, but the reason is probably that I'm used to posting on Sunday, and the round didn't start until Monday.
I could claim all kinds of excuses: computer gremlins (always a possibility!), I was sick the latter half of the week (my husband so thoughtfully passed on the plague, unfortunately, true), or perhaps the Hangar 18 aliens  ate my post. None of those is true. I simply forgot.
I did still make goals, however; I do that every week with my Weekly Status Report. Not only that, I met most of them, too.
My writing goals for the quarter, or ROW80 Round 3, are simple: 1) publish the anthology in which my short story, "Time's Tempest" will appear, and 2) Planning/outlining for Book 3 of the Saturn Society Series, and get 20,000 words down on that.
The main catch is that I need stuff from other people for the anthology, and any goal that's dependent on others carries an inherent risk. However, it's my understanding that all the other authors' stories are done and in edits. I got mine back from my editor last week, and have reworked the ending twice until I came up with one both my editor and I loved. The ebook cover's ready to go too–that was one of the three cover design projects I mentioned a couple weeks ago, although I still need story blurbs for the paperback cover.
Since I am still fighting off the crud, I'll leave fitness off of this week's goals, and focus on the writing and related tasks:
Continue brainstorming/outlining for SS Book 3
Initial cover art for friend who's going to beta read
That's it! What about you – is it just me, or have you recently forgotten something for a stupid reason, like it fell on a different day of the week? If you're doing ROW80, or just have some goals, how are you doing so far? Please share – I'd love to hear from you!

Jennette Marie Powell writes stories about ordinary people in ordinary places, who do extraordinary things and learn that those ordinary places are anything but. In her Saturn Society novels, unwilling time travelers do what they must to make things right... and change more than they expect. You can find her books at Amazon, Barnes & Noble, Smashwords, Kobo, iTunes, and more.