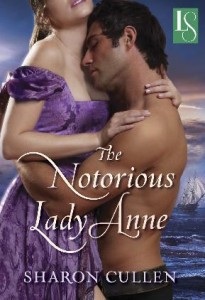 This week's new releases look like good ones! My RWA-chapter buddy Sharon Cullen released her new historical romance last week, The Notorious Lady Anne. It's the story of Nicholas Addison, celebrated captain of the Blackwell Shipping Fleet, who has agreed to take Mrs. Emmaline Sutherland aboard the Pride and ferry the raven-haired beauty across the Atlantic on what he imagines will be a routine trip. But when the ship is attacked by pirates, the seemingly innocent passenger is revealed to be none other than the infamous marauder Lady Anne, whose name strikes fear in the hearts of sailors everywhere—and whose seductive wiles commandeers Nicholas's affections.
Lady Anne, a legend of the high seas, has spent the last eleven years plotting revenge against her father, the owner of Blackwell Shipping. She's targeted the Pride in hopes of plundering its captain's company secrets. But beneath her fierce courage and bitter determination, Anne has the delicate heart of a woman—a heart that cannot help falling for Nicholas. Now Anne must make a difficult choice: bring down Blackwell or surrender to love.
The Notorious Lady Anne was featured in USA Today last week too! For more information and buy links, visit her website.
---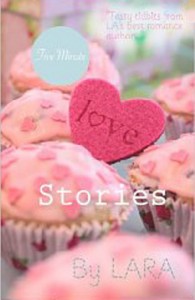 Looking for a bite-sized read? Check out Five-Minute Love Stories by the Los Angeles Romance Authors, which includes "Finding Julian" by Debra Kristi. In these busy and hectic times, sometimes you just need a few minutes to relax and escape the world, written by some of the shining stars and exciting new voices in Los Angeles.
This anthology of twenty-two short stories explores the many sides of love, featuring love in the traditional sense while several stories show love in broader terms, love of family, love of a pet, and even a super-spicy love story.
For more info, see Debra Kristi's blog or Amazon.
---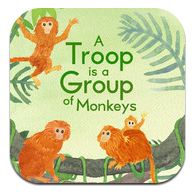 Children's author Julie Hedlund celebrates the release of her debut storybook app, A Troop is a Group of Monkeys. It's an interactive book for kids that introduces some of the fun plural nouns for animal groups (like "a pride of lions") in a musical, rhyming story. Written by Julie Hedlund and illustrated by Pamela Baron, the app features original music by Tim McCanna, whose ditty you won't be able to stop humming until long after the book is closed.
Each of the animal groups—a troop of monkeys, a colony of bats—comes to life on the screen and invites young readers to enjoy interactive play while reinforcing the vocabulary words on each page. The crocodiles snap their jaws, and the lions lick their paws. What do you suppose the skunks will do? More information is on Julie's website or on the Apple iTunes store.
---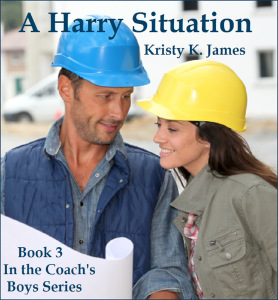 We have a new release in contemporary romance, too – A Harry Situation by Kristy K. James. In this book, Harry Saunders, the new employee for C & J Construction, turned out to be a woman, and the only thing Chris Parker wanted was to fire her. In his opinion, there was no place for females in this business. But labor laws meant that she stayed, making him nothing but miserable. Until he discovers a secret she's been keeping from everyone. A secret that brings out every protective instinct he possesses. More info is available on Kristy's website.
---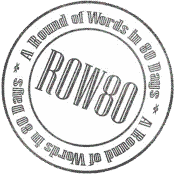 Quick ROW80 update: we've re-dyed the lace, and it's now lavender! I've also completed part one of my writing workshop assignment, and put in an hour on prewriting for my next work. Fitness is also on-track so far, with two workouts in.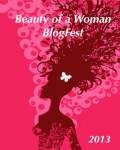 On another note, something exciting is happening on Friday, Feb. 22: The Beauty of a Woman Blogfest! Sponsored by thriller author August McLaughlin, this event features dozens of bloggers all writing about what the beauty of a woman truly is. I don't normally post on Friday, but this week, I'll be posting my BOAW contribution on a thoughtful and important topic. So be sure to check back here then, and stop by August's blog for links to all other blogs AND a chance to win a Kindle Fire!
What about you – do you like historical romance? How about super short stories? Have you ever heard of storybook apps? If you're participating in ROW80 (or heck, even if you're not!), how are you doing on your goals so far this week? Are you participating in the Beauty of a Woman blogfest, or  planning to stop by and read? I hope to see you there! Let me know – I'd love to hear from you!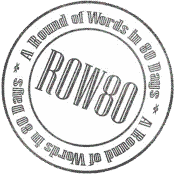 Jennette Marie Powell writes stories about ordinary people in ordinary places, who do extraordinary things and learn that those ordinary places are anything but. In her Saturn Society novels, unwilling time travelers do what they must to make things right... and change more than they expect. You can find her books at Amazon, Barnes & Noble, Smashwords, Kobo, iTunes, and more.