This week's WANA Wednesday is all for the young among us. But you don't have to be a kid or a teen to enjoy these books – so if you're young at heart, check 'em out!
---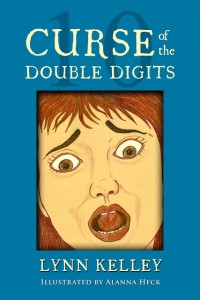 Children's author Lynn Kelley celebrated the release of Curse of the Double Digits with a great, online launch party last week! Curse of the Double Digits is about Becky, who turns 10 on the 10th day of the 10th month. She expects it to be magical. The whole class is invited to her party, including Chad, the cutest boy in the fifth grade. So is Darlenie-the-Meanie. Becky wants to look cute for her big day, but all her plans go wrong. Really wrong. The magic of turning ten disappears before she even has a chance to blow out her birthday candles. Things get so bad, she refuses to go to her own party. Becky wonders if the Curse of the Double Digits will jinx her forever.
Lynn is doing random drawings for a giveaway in the format of your choice, including print, on her blog and several others through the October 30th. More info at: http://lynnkelleyrandomactsofwriting.blogspot.com/2012/10/curse-of-double-digits-launch-party.html
---
We also have the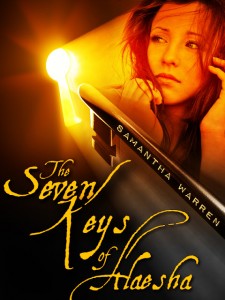 release of The Seven Keys of Alaesha by Samantha Warren. In this Young Adult fantasy, Edith Myers has just about had enough. Her first day at a new school and she already has an enemy – Dana Blake, head cheerleader, tormentor  typical prom queen. But when Edith discovers a strange key, she finds herself embroiled in an inter-dimensional war. She and Dana must find a way to work together, or it could spell the end of the other world, and theirs.
Charles has spent centuries protecting the doors to his homeworld, Alaesha, but when he meets Edith, the quiet, quirky girl who stumbled upon a key, he must decide between saving his way of life and saving her.
Kindle owners who are Amazon Prime members can borrow  The Seven Keys of Alaesha for free. For more info: http://www.samantha-warren.com/p/the-seven-keys-of-alaesha.html
---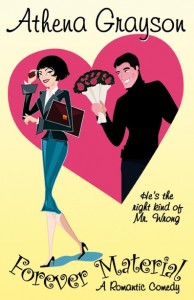 My IRL friend Athena Grayson has released her romantic comedy Forever Material in print! This has been out a while in e-book, but the print version is new – and has a new, improved cover by yours truly. 😀
In Forever Material, bad boys are Barbara Whitehall's business. She's made a career out of teaching other women how to get over the bad boys–like her hunky neighbor–and find good men. Jake Mancini's had his eye on the retail space next door to expand his martial arts studio, but before he could make a move, buttoned-up Barbara moved in. Now he has his eye on her killer legs and wants to make a move on her instead. Barbara's killer legs might come with a tongue that's murder on his no-strings social life, but if Jake can prove her wrong, she'll have to close up shop. All he has to do is get close enough for her to fall for him…without losing his own heart. I read this when it first came out in ebook, and it's LOL funny! So if you're looking for a feel-good, fun read, I highly recommend Forever Material! More info at: http://athenagrayson.com/blog/all-about-the-books/
---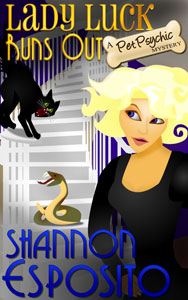 Finally, this just in! Shannon Esposito is celebrating the release of her newest Pet Psychic mystery, Lady Luck Runs Out, with a great contest, where she's giving away not only books, but jewelry and some fun swag! In Lady Luck Runs Out, Fall tourist season in St. Pete has kicked into high gear for Darwin Winters, pet psychic, but that doesn't stop her from getting tangled up in a new murder investigation. Rose Faraday, a gypsy fortune teller, has succumbed to a rattlesnake bite in her own condo. After a run-in with the victim's traumatized cat, Darwin knows it was no freak accident. Can she find a way to prove it? Or will the killer get lucky and get away with murder? Contest details and more info at: http://murderinparadise.com/2012/10/release-day-contest/
---
ROW80 Update
My main task to complete this week is to finish formatting the Home for the Holidays anthology. I completed the ebook formatting on Sunday, and finished the print book formatting last night. Next, uploading in both e- and print formats. I hope to have it ready for purchase within a week or so!
I am also continuing to work on the Hangar 18 revisions. Chapter One is marked up, and I'm making progress in Chapter Two.
Fitness goals are 2 for 2 so far, so we're off to a good start!
---
What about you – do you like children's or teen books, even if like me, you haven't been either for a very long time? How about funny romance or mysteries? If you're doing ROW80, how is your week going so far? Know about any other WANA books that released recently that I've missed?
---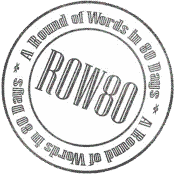 Jennette Marie Powell writes stories about ordinary people in ordinary places, who do extraordinary things and learn that those ordinary places are anything but. In her Saturn Society novels, unwilling time travelers do what they must to make things right... and change more than they expect. You can find her books at Amazon, Barnes & Noble, Smashwords, Kobo, iTunes, and more.