Sometimes, if I am really bored at work, I read Amazon reviews. OK, I also read blogs. But at my primary workplace, blogs are blocked, and I get tired of reading on my smartphone. Luckily, Amazon is not blocked, and a few weeks ago, while waiting for a slow database export, I stumbled across this gem: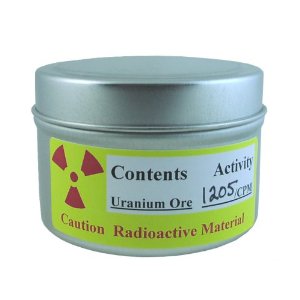 Uranium Ore
That's right, real uranium ore! I found the Product Details very interesting:
Product Features
Radioactive Ore Sample

License Exempt – low radioactivity

Useful for testing geiger counters

Shipping compiles to NRC and postal regulations

Radioactive minerals are for educational and scientific use only.
The product had an average 3.8 stars out of five. Here's what some users had to say. Surprisingly (or not), none were an "Amazon Verified Purchase." Hmm….
2,640 of 2,754 people found the following review helpful
I bought this to power a home-made submarine that I use to look for prehistoric-era life forms in land-locked lakes around my home town in Alaska. At first I wasn't sure if this item would (or could) arrive via mail, but I was glad to see it showed up with no problems. Well, almost no problems.
Unfortuantly my mom opened my mail, because she does not respect people's privacy. She was pretty upset to see Uranium Ore. After a long argument and me running away from home again, she finaly stopped being such an idiot and I was able to get back to work.
The quality of this Uranium is on par with the stuff I was bying from the Libyans over at the mall parking lot, but at half the price! I just hope the seller does not run out, because I have many projects on my list including a night vision sasquatch radar, an electromagnetic chupakabra cage, a high velocity, aerial, weighted Mothman net and super heated, instant grill cheese sandwhich maker.
Here's the "most helpful critical review":
7,800 of 7,937 people found the following review helpful
3.0 out of 5 stars Great Product, Poor Packaging, May 14, 2009
This review is from: Uranium Ore
I purchased this product 4.47 Billion Years ago and when I opened it today, it was half empty.
 It might even be the start of the Zombie Apocalypse:
9 of 12 people found the following review helpful
5.0 out of 5 stars Great for creating a zombie apocalypse =), November 20, 2010
This review is from: Uranium Ore
This item works great when trying to create a zombie apocalypse. I tried some on my friend (smeared a little on his big mac when he went to the bathroom) and boom! Instant zombification! Just be careful not to get any in an open cut or in your eyes, because it will turn you into a zombie really fast. My plan is to start a zombie apocalypse so that everyone will get sick and eat each others brains, leaving me the only healthy person and thus leader of the new free world! I wish amazon would ship this product in larger quantities because it would make my plan go so much faster! But at least I was eligible for free amazon prime super savings shipping!
But my favorite review of the product had been removed between the time I read it and now! Luckily, we have Google Cache!
Top Reviewer Ranking: 883,002 (Learn More) – Total Helpful Votes: 5 of 5
5 of 5 people found the following review helpful

 not as advertised

, by Osama Bin Laden, April 12, 2012

It's a trap! I wanted to, uh, liberate the Americans so i bought 800 cans of this and attempted to ship it to my secret fortress in Abbottabad, Pakistan. The delivery guys showed up in a black helicopter and instead of my uranium they brought guns! Please nobody fall for the same trap i did I am stuck in my house now i can hear them shooting downstairs i am hiding here with my wife please don't kill m-
Many reviews mentioned Back to the Future and time travel. Obviously they haven't read my Saturn Society books! Emmett Brown wrote several reviews. I wonder how?
There actually were a few reviews that said it was good for testing one's Geiger counter. Although I find it amusing that the shipping "compiles" instead of "complies"… must be the programmer in me. What are some of the most entertaining Amazon product reviews you've seen? Would you buy Uranium Ore from Amazon? Oh, and what about some of the products under "Customers who bought this also bought…" LOL!