This week has been a busy one. It started out with a research trip, my very first. My current WIP is the first one that hasn't taken place mostly in my home area, so the first time I've needed to travel farther than across town (a twenty-minute drive in Dayton) to personally experience my book's locale.
So on Sunday, my daughter, one of her friends, and I headed south to Middlesboro, Kentucky, on the north side of Cumberland Gap National Historical Park, our primary destination. We arrived to rain and storms, so took it easy at the hotel Sunday night, where I got a good bit of writing in, even with the girls playing computer games in the room. In the morning, we walked out of our hotel to lovely views of fog in the mountains.
Our first day at the park, we took a tour of a restored historic village. Even though this one was occupied in the first half of the twentieth century, it was more on the lines of a pioneer village, with no running water or electricity–great stuff for how my eighteenth century hero would have lived.
Later that afternoon, we trekked across Tennessee to visit the Museum of Appalachia, which was an experience all in itself. That too, gave me some great story ideas–mostly little details that add verisimilitude to our stories. And saw more antiques in one place than I could imagine. So. Much. Stuff. It was overwhelming! But a great place to visit, and a great snapshot of American history and culture, deserving of its association with the Smithsonian.
Then we headed across Norris Dam, which also figures into my WIP, and back to the hotel.
The second day, we took a cave tour. There are 38 known caves in the Cumberland Gap National Park, and we toured just a small part of one of the more well-explored ones, simply called "Gap Cave" now. This one housed soldiers during the Civil War, and has been open to tours since the late nineteenth century.
We ended our visit with a trip up to the Pinnacle Overlook, where the curviest and steepest road my old car has ever driven led us to some spectacular views:
As much fun as our trip was, I was glad to get back home to this:
Then yesterday, my RWA chapter had an all-day retreat, where we did some fun plotty workshops and played a writerly version of Cards Against Humanity, which was great fun. Actually, the whole day was great fun, as always when I'm with a bunch of my writer friends.
What I read this week: Still working on Smith's Monthly #5. Last week I read the short stories and serial parts, and started the novel. This week, I'm still reading the novel. Lots going on, and it was tiring, so not as much time to read.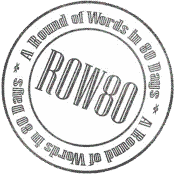 ROW80 Update: I wrote a whole scene in my hotel room, during the two evenings we were in Middlesboro. So mission accomplished! It was not the ending scene, which was what I'd originally planned to write, but another one that sneaked in and needed to be written. Sometimes that happens. Then I got the ending scene sketched out. This week: I'm already started on the ending scene, so the goal is to complete that. As a bonus, I want to list what other scenes need to be added in the middle, because I already know of several.
What about you–if you're a writer, have you ever taken a research trip? Have you ever been on a writers' retreat? And whether or not you're a writer, have you ever visited Cumberland Gap National Park? (If not, you should!) If you're participating in ROW80, how are you doing–or if not, how are you doing on whatever goals you might have? Please share–I'd love to hear from you!

Jennette Marie Powell writes stories about ordinary people in ordinary places, who do extraordinary things and learn that those ordinary places are anything but. In her Saturn Society novels, unwilling time travelers do what they must to make things right... and change more than they expect. You can find her books at Amazon, Barnes & Noble, Smashwords, Kobo, iTunes, and more.