Yes, I've been asked that before, plenty of times. Mostly by people who've known my husband a long time, when they find out I'm his wife. And I'm sure that someone, somewhere, thinks he's insane by marrying me. And then there's the fact that, as a fiction writer, I do hear voices in my head…
But what the title's referring to is yesterday's RWA chapter meeting. That was yesterday, with an excellent program on mental illnesses by author and psychology teacher Sandy James. She mostly focused on a few that writers often get wrong, like schizophrenia, and the difference between psychopaths and sociopaths (the  former are excellent actors and hard to pick out, while with the latter, people can quickly tell there's something "off"). Even though I have a really good book on this topic, The Writers' Guide to Psychology, Sandy covered these topics in more depth and answered tons of good questions from the chapter. And as always, it was fun to see writer friends and talk writing.
Earlier in the week, it was Dog's Nite Out–a monthly promo event one at an ice cream shop in our area. If you take your dog, they give you a free single-scoop cup of vanilla with a dog biscuit on it. They must rake it in on these, because the place is usually packed on Dog's Nite! Even at 4 months old, Isis did great–she's friendly to people, especially kids, and calm and well-mannered around other dogs, too. Unfortunately, I was busy watching dogs (especially Isis) and eating my own ice cream, and did not get photos. I'll rectify that next time.
What I read this week: I'm currently reading an unpublished book by a friend. My friend's currently shopping it to traditional publishers, so I can't share the title and don't want to say much about it, other than it's very well written, and the fictitious city in it is so well-developed, it's like another character in the story and hard to believe it's not real.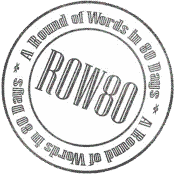 ROW80 Update: My own writing is going fairly well. I got my scene written for the week, at about 2800 words. I also finished the last assignment of my online workshop. So, goal met, and same writing goal for this week. For the online workshop, I need to go back and re-watch the videos and take notes. My goal there is to do that for the first half of the workshop, which is about three hours' worth.
And this week's puppy picture features my daughter. And yes, Isis is due for a bath…
What about you–ever been to a Dog's Nite Out, or similar event? Did you know the difference between a psychopath and sociopath? (I wasn't clear on it before our program.) If you're participating in ROW80, or just have goals, whether writing or otherwise, how are you doing with them? Is it obvious when your pets need a bath? LOL Please share, I'd love to hear from you!

Jennette Marie Powell writes stories about ordinary people in ordinary places, who do extraordinary things and learn that those ordinary places are anything but. In her Saturn Society novels, unwilling time travelers do what they must to make things right... and change more than they expect. You can find her books at Amazon, Barnes & Noble, Smashwords, Kobo, iTunes, and more.