One unwanted gift. One great wrong. One chance to make things right…
When a freak accident leaves Tony Solomon with the ability to travel in time, he becomes an unwilling initiate in the Saturn Society, a secret society of time travelers. Wanted by the Society for a crime he hasn't yet committed, he seeks help from Charlotte Henderson, the woman whose life he saved decades before he was born. Loyal to the Society, Charlotte faces a terrible choice-condemn the man she loves and to whom she owes her life, or deny her deepest convictions by helping him escape and risk sharing his sentence.
Time's Enemy is available for Kindle, Nook, and a variety of ebook formats on Smashwords and other retailers.  I'm also going to offer a discount coupon for Smashwords that will only be announced here, so check back soon, or better yet, subscribe!
Buy Time's Enemy at Amazon
| Barnes and Noble | Smashwords | All Romance eBooks
Print edition coming soon
---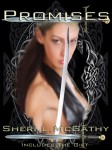 On another note, Sheri McGathy's short story "Promises" is now available in the Kindle Store as well! Many thanks to Sheri for letting me use her story as a guinea pig to learn Kindle formatting. If you enjoy epic fantasy and are looking for a quick read, give it a try! "Promises" is also available at Barnes & Noble and Smashwords, as well as iBookstore, Kobo, and other digital retailers.