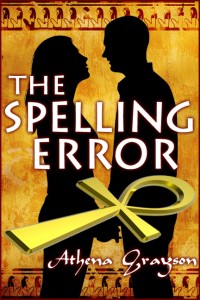 I just finished re-reading another good short story: "The Spelling Error," by Athena Grayson. Athena is a writer friend of mine, and "The Spelling Error" appeared in an anthology, Words of the Witches, several years ago.  It was as good last night as it was then!
What I really liked about "The Spelling Error" was how it breaks a stereotype held by many of us regarding people of pagan faiths. Many of us who grew up in conservative Christian homes probably have heard that pagans were "evil," or at least, woo-woo new-agey types. While there may be some truth the later, the first couldn't be further from it.
Lucy Dane is the 12-year-old daughter of a single dad – who also happens to practice pagan worship and the occasional bit of magick. So when her best friend blackmails her into casting a love spell for her, Lucy complies, even though her dad has warned her of the dangers of inexperience and magick, and forbidden its use until she's older. For herself, Lucy wishes for someone to love her just the way she is.
Her dad, Paul, already does, which is why he's determined to make his small coffee shop a success – or else Lucy will be sent to live with her grandparents. But things aren't going so well, until business consultant Mira Taggart shows up to help Paul get his business on the right track. Things quickly heat up between them, and it's up to Lucy to figure out if it's the spell she miscast… or something more.
Rather than being the stereotypical expectation, Paul, Lucy, and Mira are well-drawn people so realistic it wouldn't be a surprise to run into them at the grocery store, kids' sports, or – of course! – at a coffee shop. Their values are the same as those practiced by those of more "mainstream" American faiths: family first, do no harm, and leave things as you found them – or better. Lucy's point of view is exactly what we'd expect from an almost-thirteen-year-old who only wants to do what's best for her friend and family, even if it means going behind Dad's back.
As a side note, I designed the cover for Athena – a fun project, with the Egyptian influence! (Paul's particular brand of paganism stems from ancient Egyptian deities and faith.)
If you're looking for an entertaining and engaging way to spend a half hour or so, check out The Spelling Error! It's available in e-book form from Amazon, Barnes and Noble, and Smashwords.
Read any good short stories lately? Let me know in the comments!