It's often said that writers need to get away from the writing and other hum-drum aspects of life to occasionally do something fun and "refill" the creative well. I hadn't done anything like that in a long time, and was feeling it in my day job as well. And it's not just writers–my husband calls this "recharging his batteries." So this weekend, my husband and I took a long overdue getaway.
We rode on his Harley to Marietta, Ohio, which is a historic river town in southeast Ohio. The weather couldn't have been better–we lucked out! We enjoyed a lot of lovely scenery, and stayed in the historic Lafayette Hotel. It's supposedly haunted, but we had no problems. 🙂
We took a ghost tour that night just for fun and some history. Didn't see any ghosts, though the tour guide tried to pass off a street light with a flag blowing in front of it as "flickering." All the fun little historical tidbits and flavor through the tour made it worthwhile. I'm still not convinced there are ghosts, but anyone who worries that oral storytelling is dying out needs to take that tour, because our guide was a major storyteller!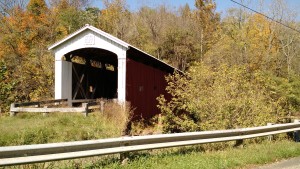 The next day, we spent out on the motorcycle cruising the countryside. There are nine covered bridges in Washington County, and we saw five of them. Six were west of Marietta, scattered all over the county, and three were to the east, all off of St. Rt. 26 heading north through Wayne National Forest.
Click any of the photos to enlarge.
We started out on the west. These bridges were pretty far out, on some roads that looked like that hadn't been paved in many decades.
The first bridge, above, was in the middle of nowhere and is no longer in use.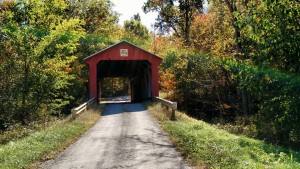 The second one, right, was even farther out, and the road to reach it was so bad we would have skipped it had we known. In the photo, it appears to be paved, but driving on it–especially a motorcycle–showed it to be little more than a gravel road. The bridge was in excellent repair and is still in use. However, given the roads, we decided to pass on the other bridges in the area and went over to the east side.
Travel was much better there, as it was a state route, and all three bridges were close to it. We met another motorcycle couple at the first bridge off of Route 26. I don't know whose blanket and folding chair are lying on/against the guardrail there.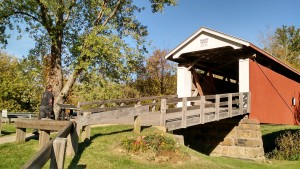 The last bridge, according to this website, had been washed away in flooding in 2004, and was rebuilt in '06. Oddly enough, it's no longer in use.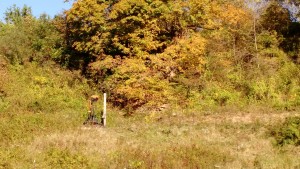 Something else we saw a lot of during our ride were old oil derricks. This one was right behind the last bridge near Route 26. Our ghost tour guide mentioned an oil boom. I found this an interesting bit of history, as I associate Ohio more with natural gas, but Ohio has also been a big place for oil, especially near the turn of the twentieth century. In fact, according to Wikipedia, one of the first oil wells drilled in the state was in Washington County, where we traveling. All the ones we saw were old and rusted out, clearly not in use for a long time. But on the way home, nearing Athens, we saw several that looked new–and one was active.
What I read this week: a novella that has not yet been published, so I can't name it, but I will mention it when it is, because it was fantastic! I also put a book down because I couldn't connect with the characters–the situation was interesting, but the characters were too perfect, too charming, and everything was going right for them so there was nothing to make me care. I read about four chapters in before I gave up on it. When I do this, I always think about why, because as a writer it's worth learning whether it's something not to do, or a book that's just not to my liking. This one was technically well-written, but I think it's a combination of both.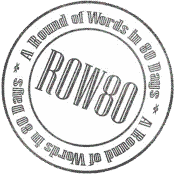 ROW80 Update: work on the novella is going slowly. I took my computer on our trip, but got very little done. That, combined with getting very little done earlier in the week, added up to Not Much Progress. I think I got maybe 2 scenes done, if that. Aiming to make this week better, with 4-5 scenes completed.
What about you–what have you done to refill your well lately? Ever done a driving/riding tour of covered bridge country? Have you put a book down recently? And how are you doing with your goals, whatever they might be? Please share in the comments–I'd love to hear from you!

Jennette Marie Powell writes stories about ordinary people in ordinary places, who do extraordinary things and learn that those ordinary places are anything but. In her Saturn Society novels, unwilling time travelers do what they must to make things right... and change more than they expect. You can find her books at Amazon, Barnes & Noble, Smashwords, Kobo, iTunes, and more.