Note from Jennette: I am deep in the weeds of NaNoWriMo, so I'm offering up a rerun. I have a lot of followers now who weren't following me when this was originally published, so I'm hoping a lot of new readers will find this. It's also timely – the facilities upgrade initiative mentioned in the blog post is on the Library Levy on the ballot in tomorrow's general election. So if you live in the area and haven't already voted, please go – and consider voting YES for the library! Not sure why? Read on!
---
The Dayton area has always been fortunate to have a fantastic library. For two centuries, the library has been a vital part of our community.
The very first officially-recognized public library in Ohio, Dayton's first library was started in 1805, in the home of Benjamin Van Cleve. Back then, it was a pay service. The library moved several times and was even closed and all its books sold, on at least two occasion.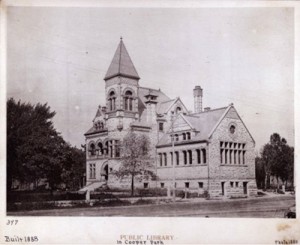 The precursor to today's Dayton Metro Library was built on the current library's property in 1888. This building was also home to a museum, which included natural history and Native American artifacts. The museum later became the Dayton Museum of Natural History, and eventually was renamed the Booneshoft Museum of Discovery. The museum was moved into its own location in 1955, and the library continued to serve as such until it was demolished, and the current building built, in 1961.
Today the libaray continues to be a happening place, with 20 branches located throughout Montgomery County. It's unusual to drive past the two branches near me and not see the parking lots nearly full. In addition to traditional books and periodicals, the library began carrying music on tape in the seventies, which eventually expanded to VHS videos and audiobooks on tape, then Music CDs, DVDs, and audiobooks on CDs.  Dowloadable ebooks and audiobooks were added via Overdrive in the early 2000s – more on that in a future blog post. Programs for kids, teens and adults – on book-related subjects and otherwise – are popular.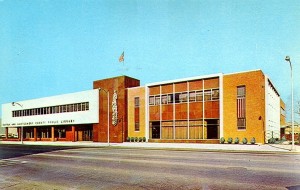 The library is once more outgrowing its downtown location, and has proposed an ambitious expansion plan in an effort to stay relevant and serve the community. Changes in technology – especially in book publishing – are creating a shift in how consumers patronize the library, and the usage of services has shifted to a lot more computer use, more online checkouts of e- and audiobooks, and more demand for meeting space, as opposed to shelf space for paper books. Studies have focused on cities like Fort Wayne, Indiana, where a new, expanded library has played a key role in revitalizing a stagnant downtown.
But the best part of the library remains the same – whatever book or written material you're looking for, the library probably has it – and if they don't, they have partnerships with a public libraries all over Ohio, and chances are, you'll find it there. As has been the case for as long as I can remember, there's no charge to have a book you're looking for, transferred to your local branch if they don't have a copy there. Loans for (and transfer of) materials from participating Ohio libraries are also free.
I got my first library card around age 6 or 7. Having lived in the area all my life, I've often taken the library for granted. But I've had friends who've moved out of the area to larger cities, who tell me their libraries don't have near the selection Dayton's library has.
What about you? Does your hometown have a great library? Do you use its service, or are you even aware of all your library offers?  (I admit that if I were to try to list them, I'd probably miss a few.)
Historic photo via Dayton Metro Library www.daytonmetrolibrary.org | 1960's photo – unknown

Jennette Marie Powell writes stories about ordinary people in ordinary places, who do extraordinary things and learn that those ordinary places are anything but. In her Saturn Society novels, unwilling time travelers do what they must to make things right... and change more than they expect. You can find her books at Amazon, Barnes & Noble, Smashwords, Kobo, iTunes, and more.