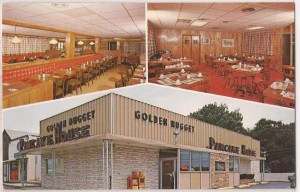 Last week for Mothers' Day, my husband and daughter took me out for brunch at my favorite place for breakfast – The Golden Nugget Pancake House. Not to be confused with the Chicago-based chain of the same name, the Golden Nugget's been in the Dayton area since the early 60's. They don't have a website, so I wasn't able to easily check exactly when it first opened, but it's been a fixture on the south side of town ever since. With its retro-diner decor, hearty portions, plain and simple but delicious coffee, and paper coasters that haven't changed since I can remember, it's like a tasty trip back in time.
I can remember going to the Golden Nugget with my grandparents when I was little in the early 70s. I vaguely remember the exterior looking like the postcard above, although I don't remember the interior being those colors – I remember the chairs and booths being a 1950s aqua blue, which they were until the building burned down in 2006. Thankfully, they rebuilt it, with an updated look that still has a retro flair.
It became a regular spot for me after I graduated from college. There's nothing better after a night out partying, if you can hack the 1/2-hour or longer wait. Back then, there was no waiting area in the restaurant, just a long vestibule along the front. On weekends, the line would fill that area, and wrap around the building. If there were only two of you, and you were at the back corner of the building, the wait was 30-40 minutes. Once you got inside, it was about 15. And it was totally worth it. Unsurprising since "Pancake House" is part of the name, there's a good variety of pancakes available, although not what you'd get from some of the larger chains. My favorite is cinnamon pancakes with apples. They also offer this in French toast, which was what I had last week. Yum! The coffee's fantastic – strong, but not bitter. They use Superior coffee, which from what I understand, is a common offering from restaurant supply services. But nowhere else does it taste like at the 'Nug (as my friends and I affectionately called it). The servers are very conscious of coffee, too – it's unusual for your cup to be empty.
I also went there for lunch occasionally, since I worked down the street for my first "real" job. Lunch is good, too – basic stuff like burgers, grilled cheese, and soups. My favorite was broccoli cheese soup. I had a coworker who ate lunch there every day. The main reason was she was a coffee fanatic, and loved the friendly wait staff who always kept her cup full. She almost always got the same thing to eat: fried mush. I tried it once, and it was good, but not being a real Southerner, I can't vouch for it. I can vouch for the biscuit and gravy though – awesome, and a sure ticket to a food coma!
My coworker also saw some interesting people there. Once, she saw Andre the Giant when WWE (or back then, WWF) was in town. She's also seen Rob Lowe and Martin Sheen there, who are both from Dayton. I've never seen anyone famous there, but the food and coffee's enough to make me come back, and even brave the line occasionally.
So now you know where to go for breakfast or lunch if you're in the area! The Golden Nugget doesn't have a website, but they are on Facebook. If you're from around here, do you have any Golden Nugget memories to share? If you're not, what's your favorite place in your hometown? I'd love to hear from you – please comment and let me know!