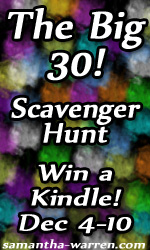 It's Day Three of the Samantha Warren's birthday bash Blog Scavenger Hunt, and there's an answer to be found somewhere on this site! You may have to go back in the blogs a few weeks… or you may need to check out other pages on the site. 😀
Answer the questions by emailing Samantha for a chance to win prizes! You'll also be entered to win the free Kindle she's giving away at the end of the week.
Have fun, and happy scavenger-hunting!
Looking for fantastic buys on E-books? Then look no further than the Booklovers' Buffet! Time's Enemy and nearly 150 other ebooks are on sale for $0.99 each – there's sure to be something you'll enjoy at the buffet!