While I was away on blog holiday, my writing friends were busy! I have four releases to share this week. First up is one from my RWA chapter buddy, Macy Beckett, who also presented with me at the Dayton Metro Library a couple weeks ago! A Shot of Sultry is #2 in her Sultry Springs series, about West Coast filmmaker Bobbi Gallagher, for whom going back to Sultry Springs is a last resort. But with her career in tatters, a quick trip to her hometown might get Bobbi the footage she needs to salvage her reputation. She just can't let anything distract her again. Not even the gorgeous contractor her brother asked to watch over her. Golden boy Trey Lewis is a leading man if Bobbi ever saw one. He's strong and confident and–much to her delight–usually shirtless. But if he thinks keeping his best friend's baby sister out of trouble will be easy, he has no idea of the trouble in store for him… Visit Macy's website for more info and buy links.
---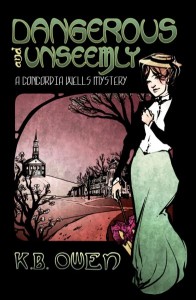 Mystery author KB Owen released her debut novel a couple weeks ago. Dangerous and Unseemly: A Concordia Wells Mystery, is an unseemly lesson in murder. The year is 1896, and Professor Concordia Wells has her hands full:  teaching classes, acting as live-in chaperone to a cottage of lively female students, and directing the student play, Macbeth.
But mystery and murder are not confined to the stage.  Malicious pranks, arson, money troubles, and the apparent suicide of a college official create turmoil at the women's college.  For Concordia, it becomes personal when a family member dies of a mysterious illness, and her best friend is attacked and left for dead.
With her friend still in danger and her beloved school facing certain ruin, Concordia knows that she must act.  But uncovering secrets is a dangerous business, and there are some who do not appreciate the unseemly inquiries and bold actions of the young lady professor.  Can she discover the ones responsible…before she becomes the next target? Visit KB's website for more info and buy links.
---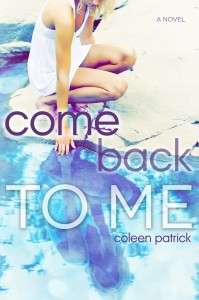 Last week also saw a YA debut from Coleen Patrick, with Come Back to Me. In this contemporary story, Whitney Denison can't wait to start over. She thought she had everything under control, that her future would always include her best friend Katie… Until everything changed. Now her life in Bloom is one big morning after hangover, filled with regret, grief, and tiny pinpricks of reminders that she was once happy.  A happy she ruined.  A happy she can't fix. So, she is counting down the days until she leaves home for Colson University, cramming her summer with busywork she didn't finish her senior year, and taking on new hobbies that involve glue and glitter, and dodging anyone who reminds her of her old life.
When she runs into the stranger who drove her home on graduation night, after she'd passed out next to a ditch, she feels herself sinking again. The key to surviving the summer in Bloom is unraveling whatever good memories she can from that night. But in searching for answers, she'll have to ask for help and that means turning to Evan, the stranger, and Kyle, Katie's ex-boyfriend. Suddenly, life flips again, and Whitney finds herself on not only the precipice of happy but love, too, causing her to question whether she can trust her feelings, or if she is falling into her old patterns of extremes. As she uncovers the truth about her memories, Whitney sees that life isn't all or nothing, and that happy isn't something to wait for, that instead, happy might just be a choice. Visit Coleen's website for more info and buy links.
---
SF/Fantasy author and editor Marcy Kennedy also gave us an unexpected treat and is offering a free e-copy of her short story "Purple"  to anyone who signs up for her mailing list on her newly-revamped website. "Purple" is a thriller, and won the Writers Digest Popular Fiction Competition in 2008. It's not a new release, but I haven't read it, and if Marcy's blog content is anything to go by, it'll be a great read for sure. It's free, so what do you have to lose? Head over to her website and sign up!
The giveaway has ended. Thanks for your interest!

Quick ROW80 Update: Yes, those are back too, even though I don't have much to report in this area. I've done part of my writing workshop assignment, and have some notes made for the workshop I'm presenting on Saturday. I normally don't get much done in the early part of the week anyway, and this week I'm still fighting this cold, AND dealing with the time change – UGH.
What about you? Are you up for some mystery or a bit of romance? Have you grabbed "Purple" yet? Who besides me thinks it's time we just dispense with this nonsense, and either stick with standard or daylight time year 'round? I'd love to hear from you!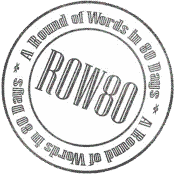 Jennette Marie Powell writes stories about ordinary people in ordinary places, who do extraordinary things and learn that those ordinary places are anything but. In her Saturn Society novels, unwilling time travelers do what they must to make things right... and change more than they expect. You can find her books at Amazon, Barnes & Noble, Smashwords, Kobo, iTunes, and more.