I took some time off blogging last month, mainly because, holidays. With all of the extra stuff on the to-do list, something had to give, and I figured it might as well be the blog, since the writing had already given.
I did get some other things accomplished. For one, I decluttered the basement. After living here for 23 years, that's no trivial thing. My family is amazed. And while I was decluttering, I found fabric my mom had given me years ago to sew her a couple of things. Which was great in that, if I completed them, I had something to give her for Christmas, not an easy thing to find. Which was not-so-good in that it was another project to add to my to-do list (hence no blog). That really wasn't a problem as I like to sew; it's just one of those things I haven't had time or energy for much in the past few years.
Luckily, my energy held out until after Christmas, and I was able to complete the projects (the last one at 9PM on Christmas Eve). And she loved them, so it was totally worthwhile. The whole family had a good Christmas, so that was even better (and we were all well this year, too!).
DH and I had decided not to get each other anything since, after all, we had a new kitchen and were in the process of buying 28 acres in TN. Except I couldn't do that, so I bought him a couple things to wear. LOL–he did the same.
We got an addition to the family, too–a four-legged one. This is Skeet, the neighbors' dog that we pet-sat for a couple years ago. She'd run away, and DH found her in the pound. The neighbors aren't really in a good place to keep a dog right now with their jobs (he is out of town all the time, and she is rarely home) so we adopted her. As before, Skeet and Isis get along great, and we knew Skeet's really sweet and affectionate (and totally destroys dog toys, but only dog toys, so that's OK).
What I've been reading, abbreviated version (since it's been a while):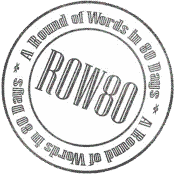 ROW80/Writing Update: As mentioned above, not much writing has gone on in the past couple months. I had a great start to NaNoWriMo, but that stopped cold soon after that as I ran out of outline and had no idea where my story was going. Some people write well that way; me, not so much. I needed to step back and regroup, but just as that happened, the holidays came along. So my new goal for this ROW80 is the same as last time's: finish the WIP. I did figure out a few things while not writing, so that's a start. This week, I want to at least spend time planning or working things out each day, if not actually writing.
What about you–how were your holidays? How did you do on your goals, if you do that? And what are you up to now? Please share in the comments–I'd love to hear from you!

Jennette Marie Powell writes stories about ordinary people in ordinary places, who do extraordinary things and learn that those ordinary places are anything but. In her Saturn Society novels, unwilling time travelers do what they must to make things right... and change more than they expect. You can find her books at Amazon, Barnes & Noble, Smashwords, Kobo, iTunes, and more.