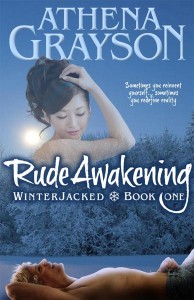 A few weeks ago, I blogged about designing a book cover for a writer friend. It's out now, and I'm about 2/3 through reading it, and WOW! Winterjacked: Rude Awakening by Athena Grayson about what happens when the Winter King–who doesn't quite know who he is–is going through a mid-life crisis. There's romance, mischievous fey folk, seasonal mayhem, and yes, holiday magic. So if you think you might enjoy an urban fantasy that's definitely different, pick this one up NOW! The ebook is on introductory sale for a limited time for just $2.99. It will be out in print soon too, for those who prefer paper.
I am really pleased with how this cover came out, too–even more so as I read the book, because wow, does it go with it perfectly! I can't take credit for that–the author gave me excellent direction, and also helped find some of the stock photos. She also listened to me when I explained why some of the photos she found wouldn't work, and together we came up with a winner IMNSHO!
But enough about me. Here's what Rude Awakening is all about:
Sometimes you reinvent yourself…Sometimes you redefine reality. 
Jack Winters lost his perfect, upwardly-mobile life (along with the perfect, upwardly-mobile wife) when it intersected with a pack of fantastical creatures. He's spent three years determined to ignore the Things that want to call him Master, and kept his failures frozen under a thick layer of isolation from even his closest friends. But when a holiday reunion presents him with the woman who Might Have Been, suddenly the impossible doesn't seem so improbable anymore…
Lin Sanada thought she was long over her college crush and the missed connections that kept her and Jack Winters "just friends" for nearly twenty years. She's moved on, and left wishful thinking behind. But when a winter night, a full moon, and a little magic lead her into a very real relationship with the man of her dreams, she finds a reality far more fantastical than her wildest imaginings…
To the young, impossible dreams are magic. At forty, they're a mid-life crisis.
If Jack wants to earn a new chance at a future, he'll have to confront all the raw wounds failure left on his expectations. And he'll have to choose: keep clinging to the shreds of his old life…or make a whole new reality.
Available at Amazon and Barnes & Noble (other retailers coming soon)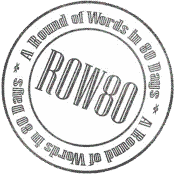 That was in my ROW80 goals a few weeks ago. As for this past week's goals:
2,500 words on combined WIPs – Done!

Keep up with writing workshop assignments – Done!

Test and refine shipping calculations and Paypal integration for website – Done!

Fitness 4 times – Partial (3x)

Pick out Christmas cards, figure out rest of gift list, complete online shopping – Partial – online shopping complete, but still no cards
For this week, we're going to keep down the same path:
2,500 words on combined WIPs

Keep up with writing workshop assignments
Website: figure out custom programming needed on product page
Fitness 4 times
Get Christmas cards out, complete rest of shopping
What about you–have you had a plan come together lately? If you celebrate Christmas, how are your plans coming together? Please share–I'd love to hear from you!

Jennette Marie Powell writes stories about ordinary people in ordinary places, who do extraordinary things and learn that those ordinary places are anything but. In her Saturn Society novels, unwilling time travelers do what they must to make things right... and change more than they expect. You can find her books at Amazon, Barnes & Noble, Smashwords, Kobo, iTunes, and more.