This has been one of those weeks where I don't feel like I've done much. A life roll hit in my family last Sunday, and took up way too much headspace. It's not really worth discussing further here, other than to say that everyone's OK.
One thing the life roll affected was my family's plan for a Father's Day cookout. My brother was going to host it, but we decided to not worry about it. Things settled down later in the week, and I decided I didn't want to skip it, but my brother's going through a life roll of his own and couldn't pull it together this quickly. So I volunteered. After all, I want to see my dad on Father's Day, and yesterday was my mom's birthday. Don't want to skip that, either. Thanks to Flylady's system, I didn't have much cleaning to do other than her weekly "home blessing," which I do on Saturday anyway. I made a grocery run yesterday, and everything's set.
One thing I bought and made was beef rollups. These are a great appetizer to share, and go over well at any kind of carry-in function. They also are a family staple, ever since Grandma Powell used to make them every Christmas eve. My husband apologized last night for already breaking into them. I said that's OK, since they're for Father's Day, and he's a dad. 🙂 Best of all, they're super easy to make! Here's how:
The Best Beef Rollups
1 8-oz. package of cream cheese
3 2-oz. packages of Carl Buddig brand smoked, chipped beef
1 bunch of green onions
Soften the cream cheese. I never remember to put mine out early, so I just put it into the mixing bowl and put in the microwave for 30 seconds.
Chop up onion tops, then mix into the cream cheese. Spread in a line across each piece of beef, fold, and roll up the beef. Chill for a couple of hours until the cheese firms up. Makes 25-30 rollups.
Worth noting is that taking a shortcut and using onion or chive flavored cream cheese isn't as good, nor are they if you use anything besides Buddig's beef. Now to see how many more my husband has scarfed… 🙂
What I've been reading: I'm currently beta-reading a science fiction novella. I'll discuss it when it's finished and released.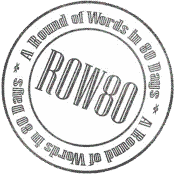 ROW80 Update: I didn't do much with my writing this week, but luckily my publisher did. Time's Dilemma is now available for preorder! It will release on June 28 for a limited-time special price of $0.99. I also still have some ARCs available to anyone willing to give it an honest review. Contact me here, and let me know what format you prefer, if you'd like one! I think this is the last week of ROW80 Round 2, and since my book is finally coming out, my primary goal is met. For next week, I want to dig into my next WIP that's half-finished, evaluate what's there, and come up with a rough outline of the rest.
What about you–is there a dish in your family that no one can resist? Have you ever tried anything like the beef rollups I described (I'm sure that recipe is far from unique)? How are you doing on whatever goals you may be working toward, whether writing-related or otherwise? Please share in the comments–I'd love to hear from you!

Jennette Marie Powell writes stories about ordinary people in ordinary places, who do extraordinary things and learn that those ordinary places are anything but. In her Saturn Society novels, unwilling time travelers do what they must to make things right... and change more than they expect. You can find her books at Amazon, Barnes & Noble, Smashwords, Kobo, iTunes, and more.