Yesterday saw some beautiful weather here in the Dayton area – sunny, slight breeze, about 70 degrees. A perfect day for a little motorcycle ride.
I rode off to a place hidden away in the suburbs, nestled away behind strip malls, office buildings, and neighborhoods of 1960's ranch homes. Beavertown Cemetery is a little piece of history. Although it's less than a quarter mile away from busy Woodman Drive, visiting there is like stepping into another world.
The cemetery was built around a little farming town in what's now the suburb of Kettering. According to the sign, the first burial at the cemetery took place in 1803. It's currently owned and managed by the city's Parks Department.
Information regarding the town and cemetery is sketchy. According to one source on daytonhistorybooks.com, the town had around 50 homes in the mid-nineteenth century. There is some more information on the Geocaching site, where it looks like someone hid a cache in 2008. According to this source, the cemetery's two acres were donated by John Ewry, one of Beavertown's early inhabitants.
There are two main sections of the cemetery. The one closest to the entrance is newer, and most of the grave markers date from the 1940s through the 1960s. The back section, inside the gravel drive loop, is where most of the older markers are. Many are unreadable.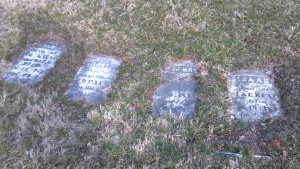 The section beyond the gravel loop doesn't appear to be part of the cemetery on Google Maps, and doesn't contain marked graves. There's a rumor noted on the Geocaching page that poor, black residents were buried there in the early days, but these are unsubstantiated. If there are any rumors of hauntings at Beavertown, I couldn't find them.
What was a surprise to me is that every now and then, someone new is buried at Beavertown. I suspect these grave plots have been in families for years.
Even so, it's a fascinating place to pick up little bits of history. One can see how much shorter the lifespans were 150 years ago, and how much bigger families were – because many didn't survive until adulthood. Through death, we get a little glimpse of what life was like back then.
What do you think? Have you visited any historic cemeteries in your area? Do you like to wander through, and get a little snapshot of life in the past?