Other places might have Monday Margaritas, but only Elsa's has Bad Juans.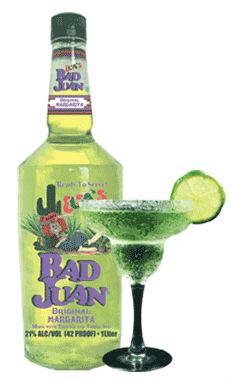 Elsa's is a Mexican restaurant and sports bar that's been a fixture in the Dayton area for decades. There are several locations: the original location on Linden Ave. on the east side of town, the second one on Far Hills Ave. in Centerville, Elsa's Kettering, Elsa's on the Border (of Dayton, Kettering, and Oakwood) and new locations are planned. The food is good, but the Bad Juans are what Elsa's is well-known for.
The Bad Juan is Elsa's trademark margarita. They come in many flavors – I'm not sure what, because I always order raspberry frozen. Original lime on the rocks is probably the most popular.
The Bad Juan isn't complicated. It's basically cheap tequilla and a couple of mixers. For ten years, my husband Don owned a bar across the street from one location (they weren't really competition – his place specialized in live music). He had his own version of the Bad Juan, called the Bad Don. People said it tasted exactly the same (and had the same effect), but it never quite took off.
Which brings me to the real distinction of a Bad Juan: They will mess you up! So if you go to Elsa's and plan to drink a couple, plan on walking home, or have a designated driver! One is plenty for me, and that's with food. So yes, they taste good, too.
A couple years ago, Elsa's got all of the licensing, suppliers, and distribution set up, enabling them to offer bottled Bad Juans in grocery stores and other retail locations, so now you can have a Bad Juan at home. At 42 proof, the bottled Bad Juan isn't as potent as the ones in the restaurants, but it's still worth drinking for the effect. And you don't need to drive!
Helpful hint from the former bar owner: If you want the bottled Bad Juans to taste just like the Bad Juans served at Elsa's, chill it really well, so less ice melts.
If you're from the area or have visited, have you tried Bad Juans? Got any good stories? If you're not from the Dayton area, does your hometown have any distinctive drinks?