Life: the Good Stuff has continued to defeat my best intentions of keeping up with the blog this past month, but I've still noticed a bunch of fine new releases! Here are several that came out during the month of May:
---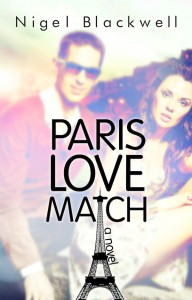 First, we have a debut release by Nigel Blackwell: Paris Love Match is a caper in the style of the accidental tourist. The action occurs in just a single day in Paris.
The hero is Piers Chapman, an engineering geek whose jeans are too short, whose mother phones him too often, and who is in Paris to update the software in one of his company's cranes.
The heroine is Sidney Roux, a worldly-wise, drop-dead beauty who is tired of falling for good-looking men who treat her badly. Mind you, she carries a little bit of an attitude and something of a secret, but she's lived in a world that never gave her anything, and she's learned to look after herself first.
When the sale of a painting between a ruthless dictator and a murderous mobster turns into a raging gun battle with the police in tow, Piers and Sidney get caught up and wanted by all sides.
If they're going to stay alive, they're going to have to put aside their fears and prejudices, and work together. It's not an easy thing for either of them to do.
But if they can, they might just find more than stolen goods …
More info is on Nigel's site, along with buy links and info on his Goodreads contest, where you can win a signed copy (entries open until June 7th).
---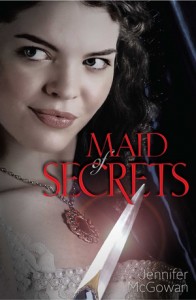 Next up is another debut release, from Jennifer McGowan, one of my Ohio Valley RWA buddies: Maid of Secrets, a YA historical.
Seventeen-year-old Meg Fellowes is a wry, resourceful thief forced to join an elite group of female spies in Queen Elizabeth's Court. There she must solve a murder, save the Crown, and resist the one thing that will become her greatest freedom–and her deadliest peril.
For Meg and her fellow spies are not alone in their pursuit of the murderer who stalks Windsor Castle.
A young, mysterious Spanish courtier, Count Rafe de Martine, appears at every turn in the dark and scandal-filled corridors of the Queen's summer palace.  And though secrets and danger are Meg's stock-in-trade, she's never bargained on falling in love…
More info and buy links are on Jennifer's site.
---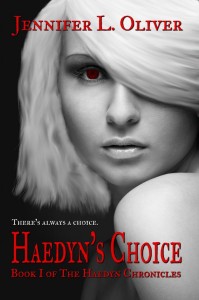 Jennifer L. Oliver's first novel-length work came out last month: Hayden's Choice, a dark urban fantasy/horror novel.
The demon Azazel knows an opportunity when he sees one. That's why he took the Unnamed abomination, Haedyn, under his wing and honed her skills. Now she's a predator, like him, but far more dangerous because she holds the potential to wield great power. The kind that humans and supernatural creatures alike will bow down to worship. The kind that will let him create his army of evil-born souls without challenge. And when the full moon rises and a human's rare blood is spilled, Haedyn will be the key to unlocking hell on earth.
Former investigative reporter Lexington Carter saw his brother murdered by vampires, but no one would believe him. Now it's his mission to learn everything there is about monsters, how to kill them, and what happens to their victims. But when he's kidnapped by a super-human albino chick who claims she's protecting him, he realizes that not all supernatural creatures are monsters and there might be one that's worth saving.
Haedyn is the last Unnamed and Azazel's personal assassin – his most prized servant. It's not a title she wants, but it keeps her alive and that's all that matters. But when she is tricked into protecting Lex, the same human her master is hunting, she learns of Azazel's terrifying plan to create an army of evil souls – and that Lex isn't the only one slated for sacrifice.
More info and buy links can be found on Jennifer's website.
---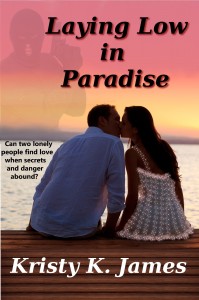 Finally, we have new romance from Kristy K. James: In Laying Low in Paradise, Laura Keane and her son have been spending summers at their chalet on Bois Blanc Island since her husband was killed in the war. She never let anyone else in after the chaplain delivered the sad news four years ago, so it's just the two of them, and she wouldn't change that for the world.
Cameron Rafferty and his friends were keeping secrets. Dangerous secrets, and they'd hoped the little island paradise would be a safe place to hide out. The plan to keep a low profile quickly unravels when an accident changes everything. Cameron soon finds himself becoming more involved with the Keane family than he'd intended -and wishing for things he shouldn't. More info and buy links can be found on Kristy's website.
---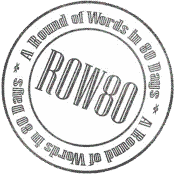 Time for a quick ROW80 update, especially since I've skipped the past two weeks of check-ins! As mentioned at the beginning of this post, most of that's been due to "Life: the Good Stuff" which in this case is my daughter's high school graduation, subsequent party (which was great!), and preparations and recovery thereof. But it was also due to me hiding out in my revision cave the rest of the time, getting my next short story finished, and turned in for the anthology within about a half hour of the deadline (I know, I know!). So I will have something new for readers of my Saturn Society series soon! My ROW80 goal for the rest of this week is to complete three book cover designs that have been pushed to the back burner while I survive the end of my daughter's high school career, and revisions on my story (thank you for your patience, friends who I owe these to!).
---
What about you – do you have your summer reading lined up? Perhaps one of the books above will fit your bill! Ever had to step away from something you are normally consistent with due to good life happening? How did you get back into it? Please share – I'd love to hear from you!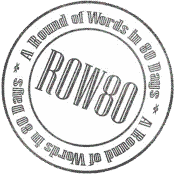 Jennette Marie Powell writes stories about ordinary people in ordinary places, who do extraordinary things and learn that those ordinary places are anything but. In her Saturn Society novels, unwilling time travelers do what they must to make things right... and change more than they expect. You can find her books at Amazon, Barnes & Noble, Smashwords, Kobo, iTunes, and more.