This has been a mostly uneventful week, one of those that we all need every now and then (at least I do, preferably more often). It started out with me adding a plugin to my website that will enable users to get notification of subsequent comments on a post by checking a box, so now if you want to do that, you can! This plugin came with a bunch of other stuff I spent way too much time messing with, my favorite means of procrastination. Oh well.
One thing I did do a lot of–more than usual, it seemed–was throw the ball to Isis:
It has been one of those weeks where I feel like I was busy for most of it, yet I don't feel like I got a lot done. So for now, I'll move on to What I read this week. I finally got around to trying out a New Adult romance. I'd been wanting to try reading one of these for a while, but have always been put off because they are almost always in first person present tense, which I detest. Once in a great while, I can get past it with a great voice or really gripping story, but most of the time, it just serves to remind me that no, I'm not actually there with the narrator as the story events occur, and takes me out of the story immediately. So when I ran across this one on a blog, and for some reason decided to check it out on Amazon, I found that it was in past tense, and wanted to do a happy dance. I didn't, because I was at work, and was also too tired to do any thing more than chair-dancing. But the premise looked interesting, so I bought it.
The book was At Any Price by Brenna Aubrey. This is a book that big NY publishers offered a six-figure deal for at auction, that the author turned down to publish independently. And it is easy to see why they'd want it–it had an interesting premise (college student auctions off her virginity to pay for med school and mom's medical bills) and a voice that did a good job pulling me in (in past tense, thank you!). It also has a very current feel, with obvious appeal to younger readers (main character is getting ready to graduate college, is into gaming as a hobby, and blogs about the latter). Like in YA, these characters did some stupid impulsive things, or sometimes refused to talk about stuff they should–things that seem obvious to those of us their parents' age, but can remember engaging in the same kinds of stupid at their age. I liked these things, because it kept the book interesting and helped make the characters real, but what made it really shine was the emotion.
This book was in first person, which I'm normally not fond of in romance because I like to see both characters' points of view. However, it totally worked in this book, because a lot of the conflict came from the female protagonist not knowing what the guy was thinking.
One thing that surprised me was to find that the follow-on to this book is about the same couple. It was surprising because At Any Price had a very satisfying ending, and felt very complete with no unanswered questions, to the point I'm not particularly compelled to get the second book. But I very well may anyway, just because the emotion was so well done, and to see where the author goes with it. My book Time's Fugitive follows the same couple as its predecessor Time's Enemy, but while Enemy ends satisfyingly (I hope), it definitely leaves some unanswered questions. At Any Price is free on Amazon right now, so if you're curious as I was, this is a good time to give it a read!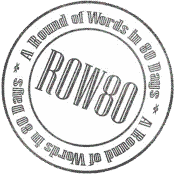 ROW80 Update: My goal last week was to go through my WIP and find all the notes about where I needed to add or change something in another scene, and move those notes to where the changes would need to go. It didn't feel like I did much, but I did get that done (and identified two more new scenes the book will need). This week, I want to go through the whole book and make sure each scene holds together (protagonist, antagonist, conflict, setting, and something that changes), and then begin the in-depth markup of the first three scenes, more if possible.
What about you–how was your week? Have you ever read a New Adult book, whether romance or another genre, and if so, how was it? How are you doing on whatever goals you might have, whether writing or otherwise? Please share–I'd love to hear from you!

Jennette Marie Powell writes stories about ordinary people in ordinary places, who do extraordinary things and learn that those ordinary places are anything but. In her Saturn Society novels, unwilling time travelers do what they must to make things right... and change more than they expect. You can find her books at Amazon, Barnes & Noble, Smashwords, Kobo, iTunes, and more.