I read an interesting post yesterday by Kristen Lamb about Twitter, and how auto-scheduled tweets bit Kim Kardashian in the tush on Monday afternoon. My blog automatically tweets when a new post goes up, and this just revealed another landmine in social media.
And the more I thought about it, the more I realized I really, really, don't like Twitter.
For those not in the know (yes, I have some blog readers who might have heard of Twitter, but don't know much about it), Twitter is a way to say something online in 140-character-or less bits to whoever's chosen to follow you, or has a search on a word in your tweet. It's supposed to be a great way to meet people online, but the fact is, it just hasn't worked that way for me. I mean, anyone who's read my books – or even this blog – knows that brevity is not my strong point.
When I do get on Twitter, I tend to hang out with people I already know from other places, just like I do in real life. That is, if anyone's online by the time I get there. Twitter seems to be a busier place earlier in the day, while I'm at work. While I can access Twitter to some extent at the office, I'm supposed to be, you know, doing work.
And the other thing is Twitter is sort of like a cocktail party – not one of my favorite activities, either. You just jump in and talk to someone – something I am also really not good at.
That's what's funny about social media. Facebook, Twitter, et al are supposed to be a big boon for introverted people in that we don't have to be face-to-face in a big, energy-draining sea of people. And some introverts really shine on social media. But I've found that I'm the same person online as I am in real life, and I tend to stay on the sidelines. I prefer to listen (or lurk) rather than talk.
Because of this, I do schedule tweets – or I used to. I write most of my blog posts when I have time, usually the night before they post, but sometimes a few days before. My blog is set up to automatically tweet when I have a new post up. This might have been OK when I was trying to use Twitter more and chat with people, but I just haven't been doing that lately. So now that there's one more reason not to be on it at all, it's too tempting to just ditch it altogether. I probably won't, but I'm really not sure how much use Twitter is to me in any case.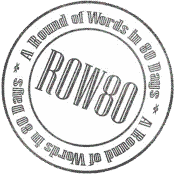 ROW80 is going better, fortunately. I've gone back and forth on whether I need to hem the prom dress first, or make the petticoat first. My daughter decided for me: hem first. That is DONE, and it was no small task, as big around as that skirt is–and it's in two layers! All that remains is the petticoat. And yes, there will be pictures. 😀  I also wrote 700 words on my short story – not much out of 2500, but I tend to do the bulk of my writing in the later half of the week. Got one workout in too.
What about you – do you feel you're the same online as in real life? If you use Twitter, are you having second thoughts about it? Do you ever schedule tweets, and now feel kind of iffy about it? Have trouble finding something worth saying that will fit into 140 characters? Please tell me I'm not alone – or tell me why I'm wrong (respectfully, please!) and how to get over my growing aversion to Twitter! And if you're doing ROW80 (or even if you're not), how are you doing with your goals so far this week? I'd love to hear from you!

Jennette Marie Powell writes stories about ordinary people in ordinary places, who do extraordinary things and learn that those ordinary places are anything but. In her Saturn Society novels, unwilling time travelers do what they must to make things right... and change more than they expect. You can find her books at Amazon, Barnes & Noble, Smashwords, Kobo, iTunes, and more.