2017 has been a long and busy year. A lot has happened, but not much writing. Probably the biggest event was my daughter's graduation from college, and subsequent moving out on her own. She has a job she loves in higher education administration, and though we miss having her around (she lives about an hour's drive away), we couldn't be happier for her.
I got out of the habit of blogging, and one thing that kept me from getting back to it was feeling like I had to write a long, comprehensive post, and make it good. I realized that yesterday, and it's kind of silly. Just like housework done incorrectly or incompletely is still better than not done at all, a short blog is better than none. So here goes…
A New House
Some of you might remember that my husband and I are planning a move from Ohio to Tennessee, with building a new house. You might have guessed that I've been away because of that. But (sigh), that's not the case. I'm still in Ohio, and still haven't started building. And that's OK.
So to catch up on that, we got a few quotes from builders last spring, around the time I last posted here. Three builders gave us ballpark estimates that were pretty close to our budget, so all looked so far so good. Then they got back to us with detailed estimates. All were 50 -60% higher! We figured out that 1) the economy is good, so there's plenty of work and 2) many of them are doing insurance rebuilds in Gatlinburg, so they're extra busy. However, they're happy to take on another project for the right money. That kind of money is not in our budget. So back to the drawing board there.
We considered downsizing the house by making the garage in the lower level–not really what we wanted. We considered being our own general contractors–we've done so on some pretty large remodeling projects, and my parents built two new houses years ago being their own contractors. But they built locally–we're 300 miles away, so being our own GC would mean having to stay down there during construction. Also not what we wanted.
An Old House
The new house kind of got put on the back burner when we had an opportunity to buy another house–a rental, here in Ohio. It needed a lot of work, but that was all cosmetic, and the deal was too good to pass up, so we snagged it. (As a side note, we've owned rental property for many years, so this is not new to us.) That turned out to be an interesting ride…
Reading
I fell off the wagon keeping track, but I continue to read every day. I've been trying to read more nonfiction, too. Most of it is either personal finance or business-related, or is about home building. I finished a novel and a non-fiction book on New Year's Eve.
For fiction, I read Pure Sacrifice by Jami Gold. I enjoyed her free short story in this paranormal romance series, so I bought book 1 earlier this year. I liked it, and a couple weeks ago I needed something to read and nothing on my Kindle jumped out at me, so I bought book 2. This series (the Mythos Legacy) has all the ingredients to a satisfying paranormal romance, but isn't the same ol' same ol'. In book 1, it was the heroine who was the paranormal character (usually, it's the guy). In this book, it was the guy, but he was a shapeshifting unicorn–pretty different! The worldbuilding was nicely in-depth but not intrusive or info-dumpy, and the characters were engaging. I'll definitely be picking up the next in the series.
In non-fiction, I read The Magnolia Story by Chip and Joanna Gaines. For those not in the know, they are the hosts of HGTV's Fixer+Upper, which is probably the most popular reality home show right now. I love their show, and really enjoyed reading about how they got their start in their various businesses to how they wound up with a their own TV show. This book pulled me in right away and kept me interested throughout, and I was sorry to see it end. Highly recommended to anyone who enjoys Fixer+Upper!
Writing
While I did make progress on my next Saturn Society time travel novel, writing just wasn't on my brain for most of the year. I did not complete any projects, and did not have any new releases. I want that to change this year. I figured out what happens next in the novel, and I'm excited to get back to it. Hence, I'm participating in ROW80 to keep accountable.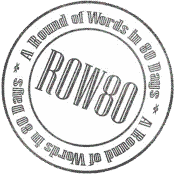 ROW80, or A Round of Words in 80 Days, is "the writing challenge that knows you have a life." We can set whatever goals we want for the challenge. Mine will be a stretch for the first quarter, which will end in late March: I want to finish the novel. It probably needs 20,000 more words. When I take the time and know where I'm going, I can write 1000 words in about an hour or so. The catch here is that I don't completely know where I'm going with this book, so that's going to be a stretch. I used to outline, but that grew to be less helpful as I progressed as a writer, as I believe one should always feel free to deviate from the outline when a better idea comes along for a story–and for me, it always does. Also, I need to get a newsletter out this quarter, as it's been way too long since I've done that, too.
This week's goal: I haven't written since early November, so I'm going to do a full cycle-back and read the book from the beginning. It's around 100,000 words at the moment (yes, I write long books). If I do that, hopefully other good ideas to wrap it up will come in the process.
This post is already getting long (so much for keeping it short) and I have a lot to do today, so I'll continue with the house sagas next week, and post an update on my goals.
How was 2017 for you? It was mostly good for me! If you watch TV, do you like Fixer + Upper? (One thing I found interesting is Chip and Jo have not had a TV since they got married–no wonder they have time to do so much!). If you're a writer, what kind of goals do you have for this year? How are you doing so far, one week in? Please share–I'd love to hear from you!

Jennette Marie Powell writes stories about ordinary people in ordinary places, who do extraordinary things and learn that those ordinary places are anything but. In her Saturn Society novels, unwilling time travelers do what they must to make things right... and change more than they expect. You can find her books at Amazon, Barnes & Noble, Smashwords, Kobo, iTunes, and more.