Has this ever happened to you: you're talking about something to someone, or writing about something; then a few days later, you notice several other people talking or writing about the same thing – people who probably didn't hear/read what you said/wrote?
Or if you're a writer or know someone who is, this has probably happened to them: you/they had a great idea, maybe even started to write about it, then a book came out about the same thing. Or you/they submitted it to an agent or publisher, only to be rejected because the agent/publisher recently took on a book with the same premise?
Of course, there are no new ideas, and in fiction, it's the execution, the voice, the twist we put on it with our own unique worldview that matters. But weirdly enough, the first scenario happened to me just last week, after I blogged about needing to prioritize my husband's business over my own goals temporarily.
I also mentioned that I had another, heretofore unwritten goal of getting out more, and being more present "in real life" by giving priority to friends and making new ones.
On Monday, it seemed like the universe was sending me a message that yes, I was indeed on the right track by moving in this direction:
Seems like there was another one, but I didn't note it. But it really struck me how there really must be some sort of collective unconsciousness, when many of us think on the same lines without having discussed it prior. Kinda weird, huh?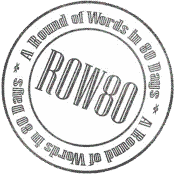 Which brings me around to my ROW80 goals. I still had work to do for my husband's business, but cutting my own goals down helped. I also skipped Thursday night trivia, as I knew I'd be spending time with writing friends at my RWA chapter meeting on Saturday. Here's how it went:
Writing: 4000 words – Done!

Fitness: 4x – Done!
I'm going to stick with those same goals this week, but add in a stretch goal of an extra 1,000 words on the book.
How about you – have you noticed any freaky examples of synchronicity lately? Or have a past one to share? Whether or not you're a writer, and whether or not you're participating in ROW80, how are you doing on whatever goals you may be working toward? Please comment below – I'd love to hear from you!

Jennette Marie Powell writes stories about ordinary people in ordinary places, who do extraordinary things and learn that those ordinary places are anything but. In her Saturn Society novels, unwilling time travelers do what they must to make things right... and change more than they expect. You can find her books at Amazon, Barnes & Noble, Smashwords, Kobo, iTunes, and more.