Starting back to writing, that is. The house is moving right along, and we now have basement walls!
There's no back wall because it's a walkout basement. These are very common in the Knoxville area, because it's very hilly. Traditional, full basements are not common in that area, probably for the same reason.
We went with a block wall basement because, according to our builder, it's about half the cost of a poured concrete wall. And they're just as good as long as they're waterproofed correctly (our current house also has a block wall basement). Once the walls are done, they'll pump concrete into the interiors–the cost savings come about mainly because block walls don't require forms. Next step (I believe) is to put the plumbing in. There is a kitchenette and two bathrooms in the basement. The builder won't be putting these in–we'll finish it ourselves later–but they will put in drain pipes before pouring the floor.
My goal was to get the electrical plans done this week. I did maybe half of it, mostly because some other stuff I had to do earlier in the week took more time than I thought. I should be able to get the electrical plans finished this week. It's not like they need them yet, but I don't like to do this stuff at the last minute; would rather have it done early so I have plenty of time to research–and yes, change my mind before it gets expensive. 🙂
What I've Been Reading: I wanted to read some more of the great big paper TBR pile, so I pulled out Heart Dance, by Robin D. Owens. I used to really love this series–actually, I don't know why I haven't read any in many years, because I really enjoyed this one. What's funny is a few chapters in, it started feeling really familiar. At first I put that down to there being a lot of similarities between the books in this series. They don't need to be read in order, and are each about a different couple, but they're in the same world and a lot of the same magical things happen to each couple as a result. But then some of the things from the main character's backstory starting feeling familiar too, and I remembered a pivotal scene that most likely came from this book and sure enough, I'd read it before. Funny thing was, I didn't remember much about it besides those familiar details and that one scene, though I knew the couple would end up together because duh, it's a romance. 😀 I still enjoyed it, including the way the ending came about! It was probably 8-10 years ago that I read it, and given the number of books I read, I guess I can take a pass for not remembering. One thing it did was remind me how much I enjoy the series and its world, and make a point to check out the half dozen or so books in the series I know I haven't read. The first book in the series, Heart Mate, was  RITA Award winner, way back in 2002. If you like fantasy romance with a bit of sci-fi tossed in, I highly recommend it!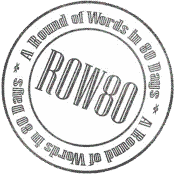 What I've Been Writing: My brain's still stuck on house stuff, so I almost forgot about my goal until last night–11:52, to be exact. So I opened up my WIP and wrote a few paragraphs, helped by the looming deadline I'd set for myself. So, a slow start, but goal met! If it hadn't been late and I hadn't been about ready for bed, I would have written more, as it was fun. I wrote a little over 100 words, so this week, I want to continue that, and write at least 100 words, for at least five days.
What about you–how are things in your world? Have you ever picked up a book you thought was new to you, only to find out it wasn't? My mother-in-law used to do this often enough that she started making a list of everything she read, and she'd check it before buying new books. I do this too, but didn't start until after I read Heart Dance the first time. How are you doing on whatever goals you might have? I'd love to hear from you–please share in the comments!

Jennette Marie Powell writes stories about ordinary people in ordinary places, who do extraordinary things and learn that those ordinary places are anything but. In her Saturn Society novels, unwilling time travelers do what they must to make things right… and change more than they expect. You can find her books at Amazon, Barnes & Noble, Smashwords, Kobo, iTunes, and more.