That's the case both with our new house, and with my writing. But much better than no progress, right?
We went to Tennessee for a couple days last week. Not much had changed with the house since the last photos I posted, but it had been two months since we were last there, and we wanted to check it out anyway. Since my last update, mostly what had been done was gravel laid in the driveway and in the basement, and the safe room built. This wasn't something on our plans or that we requested, but our builder says the walls need to be built under the front porch regardless, so why not make it something useful?
Pictures are one thing, but standing in our soon-to-be basement and garage were quite another! We also met with our commercial real estate agent, who's ready to step in and help us find and buy rental property down there as soon as the apartment building here in Ohio sells. Turns out her husband owns a brewery, and even though it's not yet open to the public, they invited us over to see the place and enjoy some samples! The beer was fantastic, and it was tons of fun hanging out with them and the guys who were helping them build out their tasting room. We also had fun getting to know our next door neighbor, and our favorite server at our favorite restaurant (yes, we already have one, LOL). I even managed to keep up with my writing goals while we were there!
Thanksgiving was our usual nice, simple event with no drama–my favorite, and something I'm always thankful for. It did seem a little weird when my husband asked to take photos of us at the table, since it will be our last Thanksgiving in this house. It got really quiet for a few minutes there, but overall it was a nice, happy family get-together.
What I've Been Reading: I'm reading both a nonfiction book and a novel right now, but haven't finished either, so I'll discuss here after I have. The fiction reading is going slowly because I finally caved in to the ads to trade in my Kindle, and sent it back to Amazon while I could still get $25 for it, as opposed to only $5. It holds a charge, but only for a few days, and it's getting difficult to charge since the USB socket no longer makes a good connection. So I figured I'd trade it in while I could still get the higher amount. My new one hasn't come in yet, so I'm reading a paper book. No problem, except that means I have to turn off the light when my husband comes to bed. I miss my Kindle, because I like reading in the dark.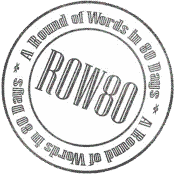 What I've Been Writing: I met my stretch goal of writing all seven days this week, including the two nights we were in Tennessee and on Thanksgiving! It wasn't that much, as I'm still baby-stepping my way with a 100 words/day goal, but I'll take those words, especially since I finished a difficult chapter. The Coach.me app has been a big help, because I really love checking off that goal every day. It's helped with my decluttering goal too, though I only got five days of that in due to our trip. This week, I'd like to up the writing goal a bit, and go for 200 words/day, for at least five days this week.
What about you–did you have a nice Thanksgiving? Have you done anything unusual and/or fun lately? How are you doing with whatever goals you may have, whether writing or something else? Please share in the comments–I love hearing from you!

Jennette Marie Powell writes stories about ordinary people in ordinary places, who do extraordinary things and learn that those ordinary places are anything but. In her Saturn Society novels, unwilling time travelers do what they must to make things right... and change more than they expect. You can find her books at Amazon, Barnes & Noble, Smashwords, Kobo, iTunes, and more.