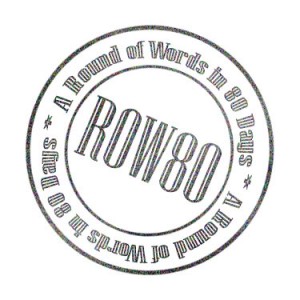 I didn't even manage to make a final post for the final check-in last round; I'll use "being in France with only occasional Internet" for my excuse reason. At any rate, trip preparations, my mind being elsewhere, and last-minute things I had to do around the house prevented me from making much progress, so my report would have been pretty much the same as the one prior.
But it's a new round, time for new goals, and a fresh start! I'm having trouble getting back into the swing of things, even though I was only gone a week and a half, so I'm going to start out easy. In the last round, I also learned (again) that I need to limit my goals to things that are 100% in my control. My two beta readers still have Hangar 18, and I don't want to rush them, so I'll make that goal conditional.

I'm also adding something new, and not writing-related; I guess you could call it worst case planning. My parents are 70 and pushing-70, and my husband's been after me for years to find out where they keep their personal papers, powers of attorney, health care wishes, etc. in the event that something happens to them and someone needs to make decisions. It's not a pleasant topic and one that no one wants to discuss, so I keep meaning to do it if something leads in to it, but that time's never come.
Then it occurred to me that my husband and I need to have this stuff collected together in case something happens to us. Thing is, it's even more certain than taxes, will happen to everyone eventually, and no one knows when. So I found a book that looked like a good guide to organizing all this info and walks you through doing a little bit at a time. Baby steps! So completing those exercises will be my goal this quarter, and if I like it, I'll suggest it to my parents when I hand my information to them.
Here are my goals for the quarter overall:
Work through Lesson 18 of How to Think Sideways

Release Times Two (combined ebook of Time's Enemy and Time's Fugitive)

Complete Saturn Society short story for holiday anthology I'm hoping to participate in – kind of scary because I haven't written short fiction since freshman year of college, and that wasn't very good

Complete Get It Together exercises and data gathering

Three interval workouts and two shorter workouts per week

Work back into tracking exercise and consumption

BONUS: Release Hangar 18: Legacy (if I get it back from the beta readers sometime this month, and depending on edits needed)

BONUS: Plot out and begin writing first book in new series
And here's what I'll do this week to work toward them:
Research online for short story
Come up with synopsis sentence for short story
Review How to Think Sideways exercises for ideas to work in to short story
Complete Get It Together Chapter 3 & 4 exercises (the authors suggest doing 1 & 2 last)
Three interval workouts and two shorter workouts
What are your plans for the rest of summer, whether or not you're doing ROW80? Have you collected together "life plans" and info for your family?